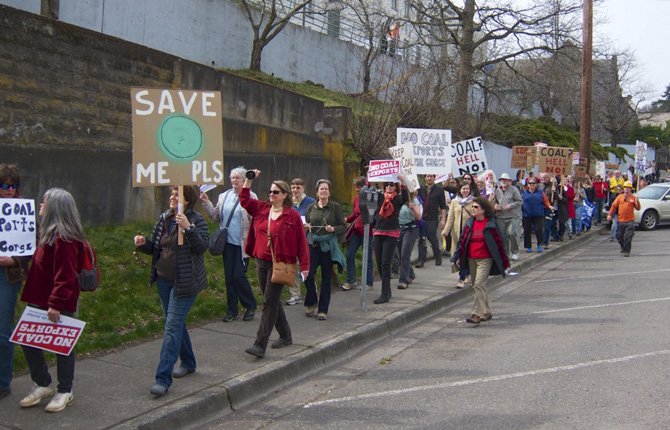 Hood River — HOOD RIVER — More than 100 residents from Oregon and Washington marched through Hood River March 13 chanting slogans and ringing bells opposing coal exports and climate change.
At issue is an upcoming decision on the first permit for a coal export terminal (Morrow-Pacific) in the Pacific Northwest that will be considered by the Oregon Department of State Lands and Governor Kitzhaber.
The Australian firm Ambre Energy has proposed to ship coal through the Columbia Gorge by barge, doubling the amount of industrial barge traffic on the Columbia River.
The rally was co-sponsored by the Gorge Ecumenical Ministries who see the issue of climate change as a moral and ethical issue, and coal burning as an immoral way to provide electric power.
"We will not allow the business plans of the fossil fuel industry to chew us up, and spit us out, and leave us used up on a depleted and lifeless planet … I remind us today, that our political work is our spiritual work," Pastor John Boonstra of Bethel Community Church in White Salmon told the crowd,
Concern was expressed over impacts to the Columbia Gorge.
"We cannot let the Columbia Gorge National Scenic Area, one of the scenic wonders of the world, become the coal chute for the nation," said Peter Cornelison of Friends of the Columbia Gorge, a member of the Power Past Coal Coalition. "As baby boomers, we must take responsibility for handing off a climate-viable world to younger generations before it's too late. This coal needs to stay in the ground!"
Hood River Mayor Arthur Babitz added, "There are not two sides to this question [of coal exports]. Oregon will lose; the world will lose if these ill-considered plans move forward."
As this rally was happening an identical rally was being held in Salem, where more than 450 activists delivered the same message to Oregon government on the steps of the state capital in Salem.