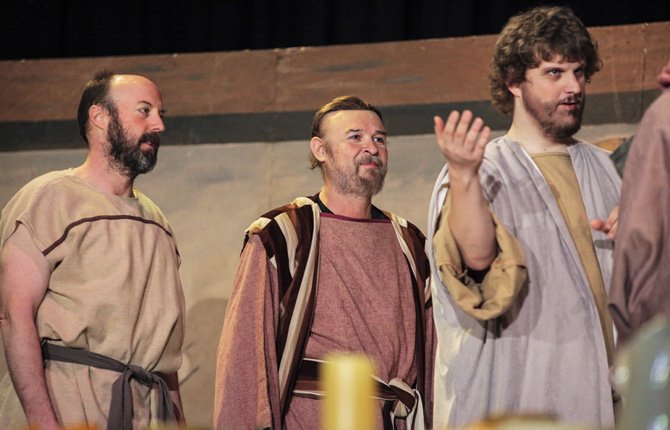 The Dalles — Since he was a little kid, Nick Lindskoog has loved to watch the Last Days of Jesus passion play in The Dalles.
This year will be his third year as a member of the cast. He plays the Disciple Andrew, and he is the first developmentally disabled person to have a role in the play, said his mother, Connie Lindskoog.
Born with Fragile X, a chromosomal disorder similar to autism, Nick, who is 27, is very shy and doesn't speak too loudly, she said.
But he knows the play forwards and backwards. As soon as Christmas is over, the family breaks out the DVD of the Last Days of Jesus, and Nick watches it often. He doesn't miss a single rehearsal, even attending ones he's not involved in.
"He's kind of a superstar," said Marcus Morgan, another member of the cast. "He's been fantastic. We really appreciate him. He knows everybody's lines."
His big night will be the first night of the three-day event, which runs Thursday, Friday and Sunday, March 28, 29 and 31. All of the performances are free and open to the public.
The Thursday event starts with the Last Supper, which takes place at 7 p.m. at The Dalles Wahtonka High School auditorium. Then, the cast and audience walk down to City Park, for the Garden scene.
Nick has one line, about shooing animals out of the temple. "It's a fairly non-verbal role, that's why it works so well for him," Connie said.
"It's just amazing that he will do this," she said. Normally, he's so shy he will cover his eyes with his hat and wear sunglasses and walk away from people to avoid interactions.
She said the other actors in the play have "made it a very easy transition for him."
After Christmas, he started growing his hair and his beard for the part. He has a costume, but "they had to lengthen his because he's so tall. He's 6-4," Connie said.
His repeated watching of the DVD is "something I think autistic adults or affected people do. They learn by repetition and they just get stuck on something. After passion play is over, it'll be time for rodeo," she said.
Nick grew up attending First Christian Church, which has spearheaded the production of the passion play.
Connie said of her son, "He loves his Jesus. He loves his word. He loves the worship. He has the sweetest disposition and the most peaceful eyes when he thinks about Jesus, that's truly his favorite character.
"I think his faith in Christ means the world to him. It's just so evident that he has a connection there."
She said Nick would love to play Jesus, but she would never ask directors to cast him. But he does get to play Jesus at home.
"If we act it out at home, he's always Jesus and I'm always one of the disciples."
Connie encourages Nick in his role, and often calls him Brother Andrew at home. "I wanted to give him a title other than disciple," she said.
He also unofficially cast himself as John the Baptist years ago. "He's been baptizing his sister in the pool for years." He has two sisters and a brother, all grown. Nick lives at home with his mom and his dad, Paul Lindskoog.
Nick has been going to the passion plays for 20 years, and previously served as a member of the crowd in crowd scenes.
Friday's events start at 8 p.m. at the Wasco County Courthouse steps, for the trial of Jesus. That is followed by his crucifixion, which takes place at the upper parking lot of the library.
Sunday morning at 8 a.m. is the resurrection scene, which takes place in the parking lot at First Christian Church, at 909 Court St.
Connie said her favorite night of the passion play is Friday, "because it's not on a stage, it's out on the steps and the courthouse like an official place where that might have happened. And it's very moving. I guess the Last Supper should be my favorite because my son is in that one," she joked.