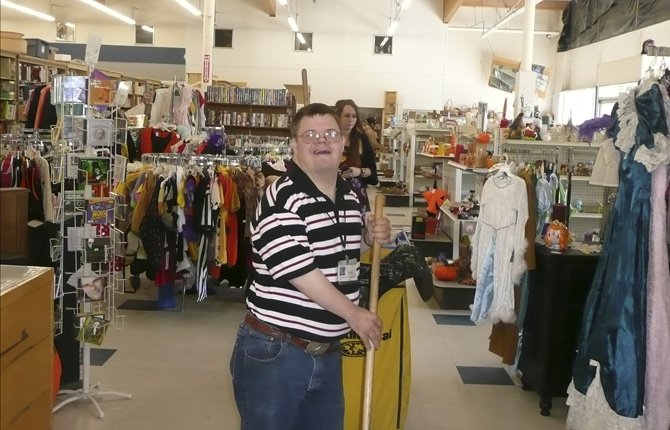 Opportunity Connections, will celebrate 46 years as an organization providing support services to people with disabilities in the Mid Columbia with an anniversary dinner and dance, Friday, April 5, at the Mid-Columbia Senior Center in The Dalles.
Doors open at 5:30 p.m. The event runs until 8 p.m. with a spaghetti dinner and salads, dancing, and silent auction and raffle items. Tickets are $9 for adults and $4.50 for children 12 and younger, available at the door and in advance at Klindt's and Waucoma bookstores.
Besides a chance to catch up with friends and lots of fun, the anniversary dinner and dance allows Opportunity Connections to honor those businesses and organizations that have promoted community integration and support for people with disabilities in the last year.
This year awards will go to the Columbia Gorge Hotel in Hood River, the Mid-Columbia Senior Center in The Dalles, Indian Creek Golf Course in Hood River, and St. Vincent de Paul in The Dalles. Each one of these organizations has advanced community integration in multiple ways, from allowing Opportunity Connections staff to work with clients at employment locations in developing their skills, to community employment, and donations of space for fundraising.

Many changes have been made to the 46-year program. Where once sheltered employment and group homes were emphasized, now community living and employment are the goal for many people with disabilities.

Project Connect, a program of Opportunity Connections, encourages connection with the individual's community through work, life-enriching experiences, and community involvement. Through this program, clients have learned life skills, taken part in volunteer activities with other nonprofit organizations, and worked toward employment goals.
Several clients are now employed in the community or in the process of assessments for community employment. One success story of Project Connect is a young man who would like to work in a restaurant. Through Project Connect he has earned his food handler's card and is now experiencing and building job skills at Meals on Wheels. He soon will have on-the-job assessments for a community job.

Opportunity Connections is funded through a number of sources, including state Medicaid funding for staffing support, commercial revenue from janitorial, document destruction contracts (Gorge Secure Shred) and some assembly and bulk mailing revenue.
The majority of fundraising proceeds are used to maintain and improve facilities and improve programs such as Project Connect. The organization is a 501( c)(3) charity and donations may be made to Opportunity Connections, 2940 Thomsen Road, Hood River, Oregon 97031 or on line at the website: www.opportunity
connections.org. Information and updates on Opportunity Connections can also be found on Facebook.