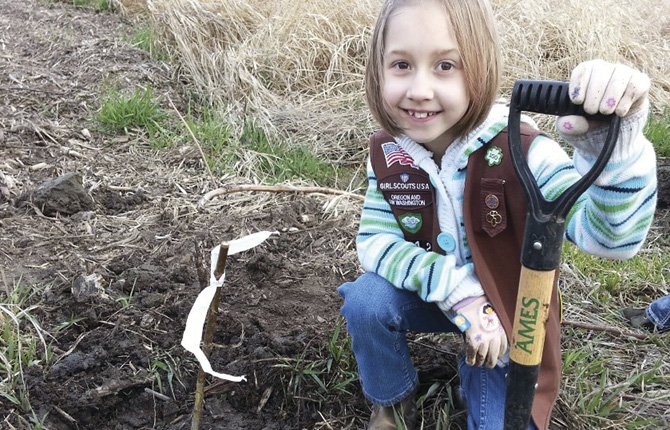 The Dalles — On Saturday, March 16, a small group of intrepid volunteers made their way to Riverfront Park where they gathered to plant trees.
The tree planting was part of the ongoing restoration strategy for the area east of Riverfront Park that was once entombed in noxious weeds.
The planting crews were made up of members of The Dalles Watershed Council, Soil and Water Conservation District Staff, NORCOR Youth Services, Parks and Rec Staff, and The Dalles Girl Scout Troops 50129 and 50121. All in all, around 50 people showed up to plant 1,800 trees, finishing in less than three hours. Afterward, the conservation district treated the hungry volunteers to lunch and beverages. Support services for this event were donated by Port of The Dalles and the Oregon Department of Fish and Wildlife.
The Girl Scout troops commemorated the event by planting a 12-foot maple tree donated by Fishback Nursery of Banks. A metal plaque marks the tree with the Girl Scout Troop numbers and the year it was planted.
The native tree species, including ponderosa pine, willows, cottonwood, big leaf maple, woods rose, mock orange, elderberry, snowberry, serviceberry, oceanspray, thimbleberry, and golden currant will complement the existing vegetation of cottonwood, ash, maple, willows, ponderosa pine, wild rose, hawthorn, and red osier dogwood.
The grass seeding was completed in mid-February and is already emerging throughout the site. The native groundcover, made up of spike bent grass, meadow barley, thickspike wheatgrass, needleandthread, Indian rice grass, blue bunch wheatgrass, and Sandberg bluegrass; will stabilize the soils, provide competition for weeds, habitat and cover for wildlife and ground-nesting birds, and provide a variety of food choices for waterfowl and other birds.
The next phase of the project will be the installation of two Osprey nest platforms, two goose nest platforms, and two bat boxes.
The Riverfront Restoration Project has been made possible through grants from the Oregon Watershed Enhancement Board and the Fish America Foundation by the Wasco County Soil and Water Conservation District.
Many organizations including Parks and Rec, The Dalles Watershed Council, groups such as Northern Oregon Correctional Facilities Youth Services and The Dalles Girl Scouts, as well as individual volunteers have given their time and effort in helping to restore this section of the Riverfront for Columbia Gorge wildlife and waterfowl.
To become involved in a future event for the project, contact Josh Thompson at 541-296-6178 ext. 116. Updates for the project can be found online at www.wascoswcd.org.