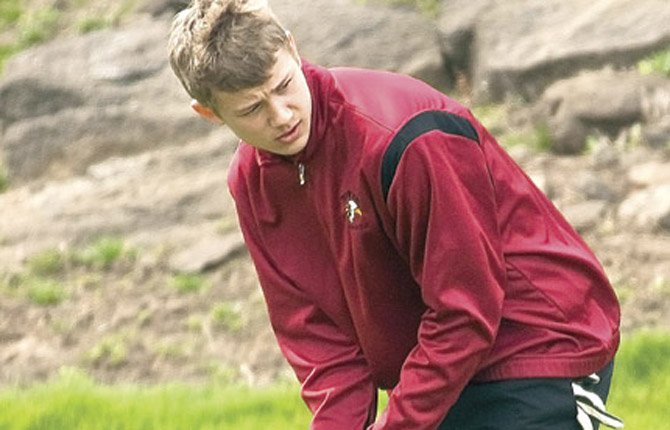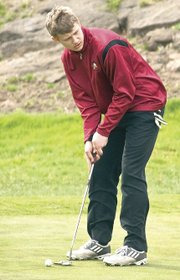 As a team, The Dalles Wahtonka boys golfers shaved off 32 strokes from their opening tournament and chalked up fifth-place honors at Thursday's Hermiston Invitational at Big River Golf and Country Club.
"I am very happy. The four kids did a good job and showed improvement," said TDW head coach Kent Smith. "We are bringing the scores down and I think we will continue to improve. Bailey, Coby Conlee and the other guy we have at No. 5 are new to the game. We will hopefully continue to make strides."
Nick Glesener showed a 10-stroke improvement and wound up four strokes from taking fifth place in the individual standings.
He carded a 45 on the front nine and capped play with a 44.
The duo of Coby Conlee and Bailey Ortega showed the most improvement on the squad by knocking off 11 shots apiece from their numbers.
Conlee had a 46-50 for a 96 overall, while the freshman Ortega added a scorching opening front side of 42, and then finished his tournament run with a 52 to score a 94.
No. 1 golfer Dakota Green maintained his consistency on the scorecards with his second consecutive 95 score.
He started out his run with a 46 and stroked a 49 on the back nine.
In the No. 5 slot, senior Dylan Fitzgerald jotted down a 113 in his first varsity event this season.
Hermiston claimed a tournament title with a combined score of 340, 13 strokes better than second-place Pendleton (353).
Mac-Hi (368), La Grande (369), TDW (374), Sunnyside (381) and Grandview, Wash. (469) rounded out the rest of the team scores.
Claiming medalist recognition was Pendleton's Walker Hoolehan, whose 75 gave him top honors.
Hermiston's Zach Evans shot a 79, Pendleton's Reilly Hagerty added an 80 and Paden Lacoursiere turned in an 83 for fourth place.
In fifth place was La Grande's John Girard, who slugged out an 85.
"I think this shows us a little about what we have on this team," Smith said. "I thought they did a good job for the amount of experience we have."
TDW heads to Pendleton for play on the Wildhorse Golf Course at 10 a.m. on Monday, April 1.
Short-handed girls hit it at Big River
With two golfers gone to vacation for spring break, The Dalles Wahtonka had a short-handed girl's golf crew out on the links at Big River Golf and Country Club Thursday for the Hermiston Invitational.
Senior Jessica Riggs had the best score of the trio with a 118 on her scorecard. From her opening tournament March 12 in The Dalles, Riggs improved by eight shots.
Another young golfer, Hannah Utley added a 154, and teammate Ally Macnab notched a 170, a three-stroke improvement from her opening event.
"There were different points that we did well," said TDW head coach Dan Telles. "Two of these girls are playing for the first time this season and Jessica is a returner who can play better as the season goes on."
Pendleton standout Shelby Greb grabbed medalist honors with a 92, a mark that put her five shots over the next competitor, La Grande's Kayli Miles, who had a 97.
Sonora Malumaleumu, of Pendleton, ended third at 107 and teammate Rachel Phinney added a 109 to the list to lead the Lady Bucks to a 422 and team gold.
With the score of fifth-place individual winner, Tauni Brock's 111, Hermiston worked a 469 team total and wound up in second place.
Telles knows this young golf team will need to roll up their sleeves in order to compete with top squads from the Columbia River Conference.
"It is going to be difficult, but it can be done," Telles said. "Pendleton has all of their players back and Hermiston has three back, so they both have a big advantage over us. It is going to be a growing process. We have a ways to go, but we need to do the things necessary from one tournament to the next."
TDW is off to Pendleton for another varsity golf tournament at Noon on April 1.