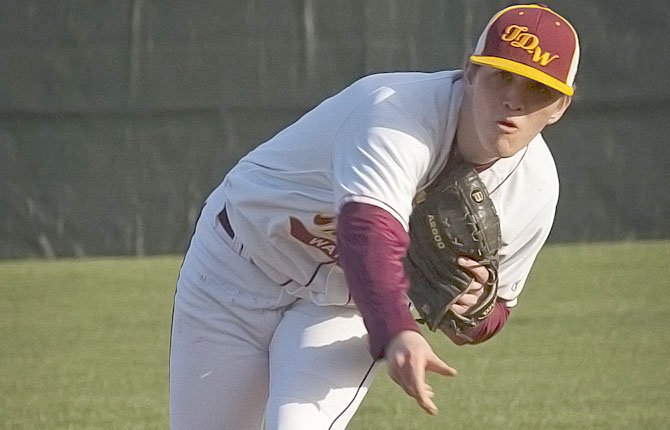 Under threatening skies above Quinton Street Ballpark Thursday, The Dalles Wahtonka pitcher Dakota Walker added another chapter to his amazing 2013 – a no-hitter.
Walker flirted with a perfect game and faced two batters over the minimum in his eight-strikeout performance to lead TDW to an 11-0 victory over David Douglas.
Even after throwing his first career no-no, the senior right-hander had an "awe shucks" take on his accomplishment.
Just 343 days ago, Walker was thrust into the biggest fight of his life as he battled Burkitt's Leukemia.
For a top athlete determined to be seen as nothing special because of his illness, Walker has shown an incredible knack for doing the extraordinary in just a short span.
"It is pretty unbelievable really." Walker said. "I never really figured that I could actually throw a no-hitter after going through everything I have."
On the day, Walker forced the Scots into eight groundouts, eight strikeouts and three flyouts.
The Tribe ace received a good dose of help from his defense, with two double plays — one turned in by the trio of Kaci Kiser, Nolan McCall and Clay Copper — that ended the only jam of the game.
In the top of the sixth inning with TDW up 11-0, Walker issued free passes to Justin Tomiak and Rigo Ruiz to start the frame.
One out later, David Douglas had runners at second and third base and leadoff hitter Austin Anderson at the plate.
He blasted a shot to Kiser in left field.
After making the catch, he fired the ball back to the third baseman McCall, who then completed the relay with a toss home to Copper for the tag.
The other double play, secured TDW's win, as shortstop Steven Bartells fielded a groundball, stepped on second base for the second out and then made a toss to Austin Wilson at first base for the game-clincher.
Once the final out was put in the books, Walker walked off the field toward the dugout where he was met by his jubilant teammates and coaches.
"Dakota's effort on the mound was outstanding. It is pretty special when a kid can come back from what he did and throw a no-hitter," said Tribe manager J.R. Runyon. "I was really proud of the defense behind him. They did everything they could to make the plays and make it happen for Dakota, so I am really proud of these guys."
This was Walker's fourth preseason game back from recovery.
Coming in, he had been handled with kid gloves — 4 2/3 innings pitched in three previous matchups.
His last outing?
Disastrous.
The burly right-hander lasted 1 2/3 innings, allowed seven hits and walked four in TDW's 14-10 home loss to Bend on March 16.
"It is great to recover like I did," Walker said. "After coming out last game, giving up eight runs and then coming out and getting a no-hitter, it is pretty great. I have a good feeling that it is going to be a pretty good season for us."
Offensively, the Eagle Indians slammed out 13 hits and used an eight-run third inning to create some distance.
In the third, TDW sent 12 batters to the plate with RBI hits coming from McCall, Copper, Kevin Henderson and Kiser.
McCall added more fireworks to a festive night in the fourth inning, with a two-run home run to left field to make it 10-0.
Justin Sugg capped the Tribe's scoring outburst with a two-out, RBI double to left centerfield in the fifth frame.
Sugg, McCall, Kiser, Copper and Bartells checked in with two hits apiece and a combined seven runs scored.
Connor Mathisen had a hit and two runs scored, and Austin Wilson tacked on a hit, a run and an RBI in four appearances.
Runyon was pleased with his team's plate approach.
It was good to see the entire lineup come through for a solid contribution.
Copper chalked it up to a more determined persona in the dugout.
"Our mentality was 'let's get in there, hit the ball and win the game,'" the catcher said. "We got to go in there with that state of mind that we are here to win every game. It takes all of us believing that we have the talent to beat anybody we play. I think we showed that today."
In that decisive third inning, David Douglas coach Ryan Miller could only watch as his team committed three errors and six unearned runs as part of TDW's eight-run surge.
That one bad inning, he said, took the wind out the Scots' sails.
He highlighted Walker's ordeal as a perfect example of how his squad should handle adversity.
"It is a lesson for anybody, especially for our kids. We got on them today about their lack of fire and ability to compete," Miller said. "If that (Walker) doesn't prove right there that you can compete and get back on top when you get knocked down, then I do not what does. It is a heck of a story. It is a great thing for him and it is a great thing for this community. It is a great thing for high school baseball in general."
TDW (3-2 overall) hosts Redmond at 4:30 p.m. today at Quinton St. Ballpark.