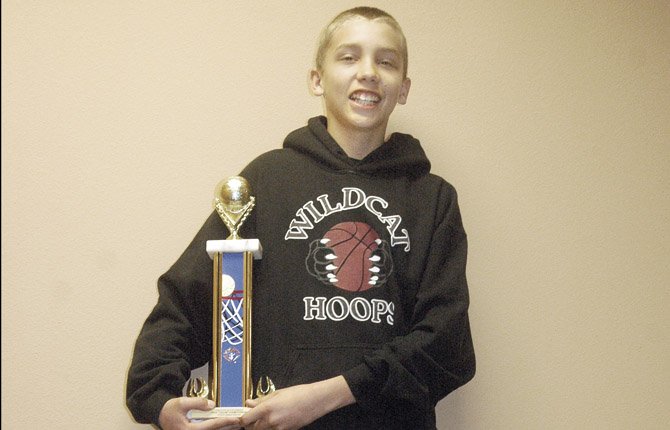 The Dalles — One miss and a free throw state championship would last another round.
Two misses and he would have to wait another year.
Dakota Murr had to be perfect in order to claim his crown.
After his opponent sank 4 of 5 free throws, Murr went last, by his choice, to see what he could do.
The Dalles Middle School seventh grader stepped up to the line with ice water in his veins, and sank 5 for 5 to claim the Knights of Columbus State Free Throw championship last weekend at Marist High School in Eugene.
"I was a little nervous, but I knew I had to keep calm and use what I do when I practice shooting," Murr said. "I didn't know what was going to happen. It feels pretty good to shoot like I did."
Some of the other participants were missing at a high rate. Penciled in to shoot last, Murr measured his competition, feeling confident he could get on a roll.
Murr and his opponent from Scappoose earned berths in the 10-14-year old age division and matched each other the opening rounds with a 22 for 25 effort from the stripe.
With both sessions added up, Murr sank 27 of 30, for 90 percent.
"You don't think about shooting free throws and missing," Murr said. "You just have to think about winning at the very end. If you think you can do something, you can."
When an athlete puts copious amounts of time into a craft, good things seem to happen.
Not only did Murr practice shooting in the driveway or at school every morning, he would make a trip to the TDMS gym to shoot free throws. Murr defeated his physical education teacher Larry Fairclo three times in head-to-head competition.
"I worked hard at this. I want to get better every day," Murr said. "It has been fun."
One person not surprised by Murr's exploits is his coach Sean Herriges.
During his 10 years as a coach, Herriges worked with the likes of Damian and Nadia Telles, Mark Claar, Ryan Took and Nate Timmons to name a few.
With Murr, co-captain Peiyton Slat and current The Dalles Wahtonka High School freshman Devin Wilson, Herriges feels the future could be bright for the Eagle Indian hoops program.
This season at TDMS, Murr swished an unofficial school record of 37 three-points and averaged 17 points a game for the Wildcats. In one game, Murr scored a season-high 29 points against Sandstone Middle School of Hermiston, including 7 of 9 from beyond the arc.
Against Umatilla last season, Murr and his teammates were faced with a half time deficit of 26 points, but with some hot shooting and swarming defense, Murr and the Wildcats battled back for an eight-point overtime win.
His free throw shooting and five-deep balls led the comeback.
Murr was named TDMS Player of the Year for the season, along with being the co-captain of the team with Peiyton Slat.
"He possesses 'Reggie Miller' abilities off the dribble or screens, with a quick release," Herriges said of Murr. "He's a shooter that easily gets into a rhythm and once he's there, he stays hot. Dakota is a humble kid that smiles a lot on the basketball floor. He is also very competitive and doesn't have that cocky swagger on the court. He's pretty oblivious to how good he really is."
On Jan. 29 at the St. Mary's Academy Gymnasium in The Dalles, Murr competed with TD residents Emily Palmer and Dominic Smith along with Wasco's Treve and Max Martin and White Salmon, Wash.'s Jacob Lockman.
He managed to get through that round unscathed with a 12 for 15 rate to make a run in regional action at Wy'East School in Mosier.
While in Mosier in late February, Murr sank 18 of 25 free throw attempts and breezed through the field to punch his state ticket.
Enjoying this journey were Murr's parents, Randy and Ronna, grandparents and older siblings.
"It was very exhilarating. Even from the beginning, when we first got him into the free throw contest, I knew he was very determined and competitive," Ronna said. "He had that mindset and goal that that is what he wanted to do. He wanted to go far and he did. He made it."Basketball is in Murr's blood.
A day before the NCAA tournament, Murr selected Kansas, Duke and Syracuse as being three teams who will make it to the Final Four.
He said Gonzaga has a chance to make it far.
He is fan a of Syracuse coach Jim Boeheim and his brand of basketball.
He patterns his game after Boston Celtics point guard Rajon Rondo. He also enjoys watching Kevin Garnett on the basketball court, as both are members of his favorite NBA squad.
Murr is hopeful that one day he will play point guard for the Celtics and that a 38-year old Rondo will be his backup.
"He will be old, but he would still be pretty good," Murr joked.
In order to do that, the work will continue.
He credits coach Herriges for instilling the fundamentals in practice, from breaking the press, passing drills, offensive execution and free throw shooting.
The middle school program has been a great vehicle for Murr's talents.
"I think coach is really good," Murr said of Herriges. "He knows a lot about basketball. I have learned a lot from him."
While there have been so many in Murr's inner circle who can share this accomplishment, Knights of Columbus Council 1598 member Bob Thouvenel takes special pride in knowing someone from The Dalles made big news.
He offered his congratulations and a tip of the cap.
"Dakota's accomplishments hopefully are reflections on the community and the Knights of Columbus," Thouvenel said.
"A lot of people were part of the free throw contest, both in the community and the Knights of Columbus. Personally, I would like to thank his parents for bringing him to the contest. It takes time, energy and sacrifice on their part."
A national round is set for a later date.