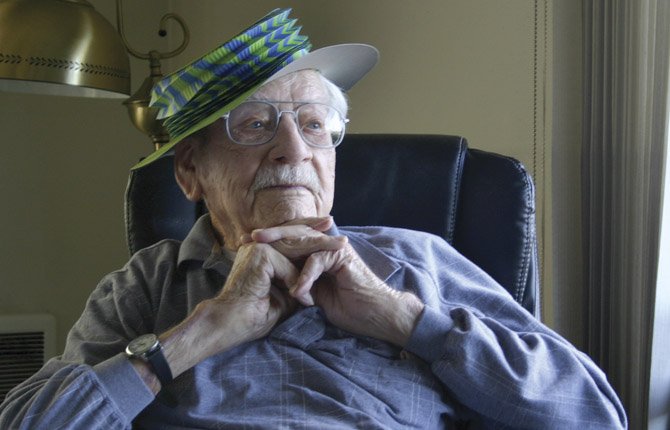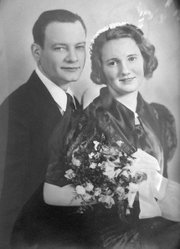 The Dalles — When Edgar Ashbrenner drew his first breath, Babe Ruth was still six years away from his professional baseball debut with the Boston Red Sox, humanity didn't yet know about world wars or Great Depressions, and movie fans were still 18 years away from hearing John Barrymore and Mary Astor utter the first words on the silver screen in "Don Juan."
Ashbrenner celebrates his 105th birthday Sunday, March 24, with a large family gathering. It isn't his first party, though. Heart of Hospice participants celebrated with him March 21, as he tapped his toes to the accordion music and vocals of the Twilight Twins.
He was born March 24, 1908, in Vancouver, Wash. He attended school there and enjoyed participating in sports including baseball, basketball and football. "Mostly baseball," he said.
He also developed a lifelong love of hunting and fishing, going out in quest of game with his pet cat.
"She followed me all over," he said.
Asked about his secrets to long life, Ashbrenner just shrugs, but his wife of 75 years, Laura, chimes in.
"People always ask him that," she said. "Maybe it's because he's pretty contented."
Edgar nodded and said, "And I keep busy."
His mother always told him to chew his food thoroughly, Laura added, which means he is a slow eater. Eating slowly is easier on the heart, his home caregiver noted.
Edgar's father worked for the railroad, so after Edgar graduated from Vancouver High School, he went to machinist school for four years. By the time he finished, the country was in the grip of the Great Depression and jobs were scarce. It was five years before he was able land a railroad job.
In the meantime, he did whatever odd jobs he could land, like hauling wood and pouring cement.
He had already met Laura.
"He was really good looking," she said. "But he had a lot of girlfriends."
They met at a barn dance while on dates with other people. Then double dated, again with other people. Eventually, they started going out with each other, leading Edgar to propose. But without a job, he couldn't support a wife and family, so the two waited.
Edgar finally got a job in 1936 in Wishram as a machinist, but he worked seven days a week.
"The trains ran seven days a week," Edgar said. And whenever a train broke down, Edgar would be dispatched to repair the engine.
With that kind of schedule, finding a date to get married was a challenge. So Laura and Edgar waited. She was living with her parents in Vancouver when she got a letter on Friday, Dec. 10, 1937.
"It said 'If you still want to get married, I'm coming down. I'll be down tomorrow'- which was Friday," said Laura in a 2010 interview.
"After I read the letter, I went into Vancouver and bought a dress, got a cake, invited the people, saw the pastor and got a lady to sing." In the meantime, Ed had driven to Vancouver to buy a new shirt and hat for the wedding. He picked her up at noon and they headed to the courthouse to get a marriage license, only to find the Clark County courthouse closed for the day.
Someone suggested they go to neighboring Skamania County, and get their license there.
The eager couple arrived in Stevenson only to find the county clerk not in her office.
"We were looking all over town for the county clerk, and they were telling her that we were looking for her, so she was looking for us and we were looking for her," Laura said. "It was almost five o'clock we finally found each other." That delay forced them to cancel the wedding rehearsal they'd plan for Friday night and reschedule for Saturday.
When the wedding day arrived Sunday, the ceremony had to be postponed because the best man had been hauling wood and got stuck.
"We finally got married, and we left my folks at midnight, to go to Wishram because he had to go to work the next day," Laura said. "As we got over here to Crawford's Grove, our lights went off in the car and we ran off the road into a ditch. We sat there until about 4 o'clock in the morning when a truck came along and gave us a ride to Wishram. So we had breakfast, and he went to work and I went to bed." That lack of an immediate honeymoon was made up many times over in the years to come.
Edgar continue to work that seven-day schedule through much of his life, including 10-hour days during World War II. The military wouldn't take him — his job with the railroad was too important to the war effort.
They lived in Edgar's Wishram hotel room when they first got married.
"He had so many girlfriends [before he was married] and they came to visit every so often, even though he was married," Laura said. "I told them, 'sorry, he's working.'"
The Ashbrenners have three children, son Vern, and daughters Janet Meader and Marcene Mason, as well as six grandchildren, five step-grandchildren, three great-grandchildren and one great-great-grandchild.
Edgar retired from the railroad at age 65, but that doesn't mean he has been idle.
"I've often thought he was a wonderful carpenter," said Laura, an artist who had a ceramics business for many years. "He built my workshop for me. And all the time I was having classes he would pour my greenware."
He also framed most of her paintings. And when the Ashbrenners bought their half-finished home in The Dalles some 50 years ago, built the cupboards and installed the closets.
"He's just such a big helper," Laura said, offering that as one reason he has been a good husband for 75 years.
The Ashbrenners have also enjoyed playing together, traveling widely to destinations including Europe, Mexico, Hawaii, Canada, and New York. They also house-sat several times in the Virgin Islands.
Laura had read somewhere that a wife should be involved in her husband's interests, so she decided to try hunting and fishing. But when she went fishing with him he waded away upstream.
"I didn't see him for the rest of the day," she said.
Eventually, they worked out a system where while he fished she would paint that served them well for many years.
They also enjoyed golfing together.
"I had played golf in high school with a fellow and I said, 'Why don't you play golf?' He said, 'That's a silly old game, running around after a little ball.'"
But a fellow talked Edgar into playing once and he was hooked.
Though both Laura and Edgar came from families where their parents fight, they haven't carried on the tradition.
"After we got married, one day I was feeling like a fight and he said, 'We're not going to fight,'" Laura said. "I looked him over and thought, 'He's bigger than me,' so we never did fight."
The couple have been members of Calvary Baptist Church for 50 years. Edgar helped build the existing church on Columbia View Heights.
Today, the Ashbrenners remain in their home with help of home caregivers and Heart of Hospice.
"We didn't know we would get this old," Laura laughed. "I can't believe his is going to be 105." Laura, at 98, is not far from triple digits herself.
Edgar enjoys a breakfast every morning of cereal with bananas and fruit. He also drinks a lot of fruit juice.
"And he loves ice cream," Laura says. "They doctors tell us to give him whatever he wants."