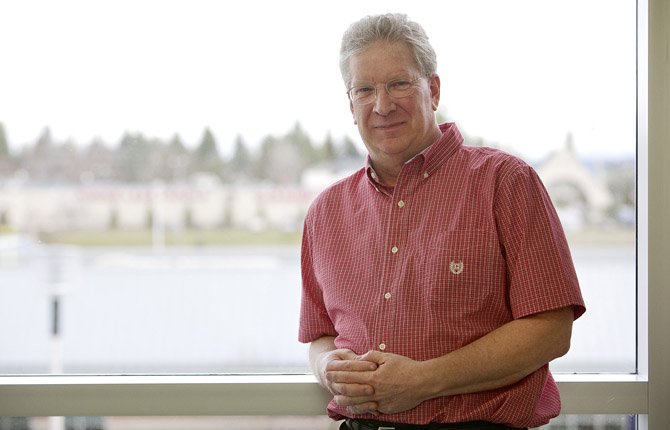 COEUR D'ALENE, Idaho (AP) — It's a good thing Jim Labrum doesn't have an issue with needles.
That's because a syringe slithering into his veins is part of his routine.
It gives the Post Falls man pleasure. It gives him something to look forward to.
This probably isn't what you think.
Labrum, a nonchalant, laid-back jokester, has been stolidly donating blood over the past 30 years.
And as of March 8, the employee of Kootenai Medical Center business services had donated 12 gallons of his Type O Positive throughout his lifetime.
"For me, it's just a regular thing," said the 59-year-old with a half-smile.
Regular is right. Every time Labrum gives blood at KMC, he marks his calendar eight weeks ahead.
That's when his red blood cell count will be high enough to donate again.
It's a simple gift he can give, Labrum reasoned.
And why wouldn't he, when one pint of blood can save up to three patients?
"I tend to be more that style, of helping behind the scenes," said Labrum, who also volunteers at county Emergency Management Services.
And don't forget the other plus.
"Where else can you go within 5 to 10 minutes and lose a pound?" Labrum said, referring to the weight of a donated pint.
Blood donated at KMC, and other local blood drives, goes to the Inland Northwest Blood Center.
It's the only blood supplier to 35 area hospitals and medical centers.
An avid blood donor can give four to six times a year, said spokeswoman Elizabeth Giles.
"It would take about 20 years to reach a 10 gallon level," she estimated. "It truly is a remarkable and life-saving accomplishment."
But Labrum is not alone.
Of INBC's 27,916 blood donors last year, Giles said, 52 hit the 10-gallon mark.
"The largest milestone of an INBC donor is 39 gallons," she stated.
Such regular donors, and even one-timers, are sorely needed, she added.
Blood transfusions are used every day to sustain patients fighting cancer, renal failure, anemia, congestive heart failure and more.
There was no stirring event that prompted Labrum's donation marathon.
He was lured by a call for holiday blood donations while living in New York in the late '70s. Labrum understood the urgent need for blood, he said, after witnessing nauseating injuries as a back-country search-and-rescue volunteer.
When he gave blood, it felt right. He saw no reason why he couldn't do it again.
And again.
"I thought, 'If I can help...'" Labrum said. "To me, it was a gift from God to be able to do it."
Labrum has always donated, when his schedule allowed for the half-hour process.
He enjoys timing how fast his vein can deliver a pint (seven minutes, currently), and tracking his donations posted on the blood center website.
"It's one of those things you look forward to. The first gallon, then the first 10 gallons," said Labrum, now on a committee rallying more KMC employees to give blood.
Labrum has never had a negative donation experience. In fact, when Labrum took a break from donating after a recent stroke, his doctor tasked him with starting up again.
"He said, 'Your iron level's getting high,'" Labrum recalled. "'You need to go back and donate.'"
INBC volunteer David Vann said Labrum always looks "as comfortable as he could be" when donating blood.
"He's very consistent," Vann said. "It certainly shows a huge commitment."
Vann has donated more than 17 gallons himself.
"My body keeps producing, and I've always been able to do that," he said, adding that he also donates platelets, blood components crucial for many cancer patients.
To give blood, individuals should be well hydrated and have eaten a nutritious meal a few hours prior. A photo ID is needed.
To give whole blood, donors must weigh at least 110 pounds and be cold and flu symptom free.
Labrum intends to donate blood as long as he can.
He's excited for November, when he will supply his 100th pint and can say he's lost 100 pounds.
But he still takes it one donation at a time.
"I already have my appointment for May," Labrum said.
---
Information from: Coeur d'Alene Press, http://www.cdapress.com
Copyright 2013 The Associated Press.