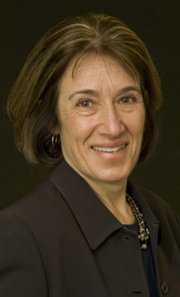 The Mt. Hood National Forest welcomes Claire Lavendel as its acting forest supervisor.
Lavendel arrives with extensive experience in public land management and supervision in the Pacific Northwest spanning over three decades.
In her regular position as director of the Recreation, Lands, and Minerals office at the regional level, she guided the region's programs in wilderness, heritage, and geology, among several other areas.
Lavendel was the forest supervisor for the Gifford Pinchot National Forest for nine years before joining the regional leadership team in Portland.
She began her career as a forester and followed this role with a stint as the district ranger at the Sandpoint Ranger District on the Idaho Panhandle National Forest.
Lavendel's experience with timber management, recreation and lands will be put to use this spring as the Forest prepares for the 2013 field season and a busy summer. Partnerships, forest restoration, and special uses administration will be among her priorities during her acting role on the Mt. Hood National Forest.
"The employees of the Mt. Hood National Forest continue to impress me with their dedication to the mission of the Forest Service and to working with our communities and partners," said Lavendel. "This is a fascinating assignment, and I am enjoying the complexities of working on a forest like the Mt. Hood where at any time there are a number of on-going projects that involve partners and an interdisciplinary scientific approach."