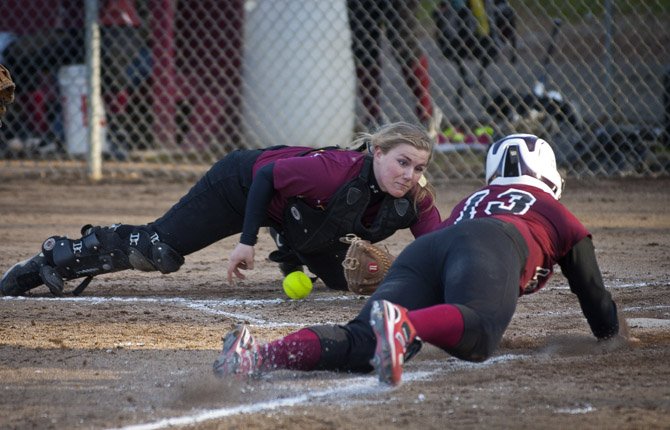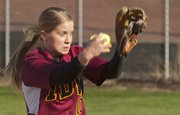 The Dalles — The Dalles Wahtonka had No. 3 Redmond on the ropes, but could not deliver the knockout blow.
Marissa Duchi drove in the tying run and Amanda Cain scored the eventual winning run on a wild pitch in a four-run sixth inning, as the Lady Panthers came back from a 4-1 deficit to pull off a 5-4 comeback win in 5A softball play Friday night in The Dalles.
In this contest, there were moments that could have swung momentum in the Eagle Indians' direction.
Whether a misplayed fly ball or a player thrown out at home or the lack of hits with runners in scoring position.
Aside from all of those details, TDW head coach Steve Garrett put the onus squarely on himself.
He had ace pitcher Morgan Triperinas throwing a gem against a potent Panther offense.
In five innings of work, the right-hander allowed one run on four hits, struck out five and did not walk a batter. Nine of the outs Triperinas recorded were groundouts and one was an infield popup.
But, following his thought at the game beginning, Garrett pulled Triperinas in favor of reliever Carley Gowdy.
Redmond then rallied for three runs off Gowdy with two walks, two singles and an error to tie the score at 4-4.
Cain's fly ball to deep left kept the door open and allowed two runners to score to make it 4-3.
"I knew we were down by three runs, so I figured that if I got the pitch that I needed to drive then I would," Cain said. "I wasn't trying to hit a home run; I was just going for line drives or base hits. I am glad it made it."
After a wild pitch, Duchi plated Taylor Dockins with the tying run on an RBI single.
Garrett then inserted Triperinas back in the game.
She struck out one and then uncorked a wild pitch that allowed Cain to score the game-winner.
Triperinas managed to get out of the jam with an inning-ending fly out.
"We came in with a game plan and I wasn't wise enough to vary from that plan," Garrett said. "Morgan was pitching a great game. I probably should have left her in. I take this one. I take the choke and I am big enough to swallow it, I think."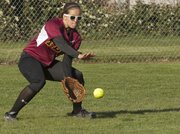 Triperinas allowed two more hits and fanned one in the final 1 1/3 innings, but kept the game close.
In the seventh, she got help from Katherine Kramer, who gunned down a potential base stealer at third base.
Then Triperinas struck out the next batter and forced a fly ball out to end the frame.
In the home frame of the seventh inning, TDW managed to get a runner on second base, but could not get the hit it needed to force a tie.
"We are a good team. We hit the ball well tonight," said TDW player Shaela Buchanan. "They had a really good pitcher (Ashley Pesek) and we hit it all over the place. They hit the ball when they had runners on base and that is what we needed to do. We can't leave runners on base like we did tonight."
In all reality, TDW should be an undefeated 5-0 – two of their three losses have been by one run.
Not to worry, Buchanan said there is solid leadership on this softball team, starting with Kramer.

"I think it is important for us to come back from this," Buchanan said. "With this team, I think we do that very well. Katherine is always someone who is there and is always picking everybody back up. Honestly, I feel bad for teams that do not have a Katherine Kramer."
In the second inning, Morgan Goslin scored on an error for the Tribe's first run.
Kramer added an RBI single and Melanie Taphouse followed with a two-run double to right center to move TDW in front, 4-1.
In all TDW had seven hits, but left 11 runners on base.
"This team (Redmond) is third in the state and we gave them a run for their money tonight," Buchanan said. "We could have had them. We are ranked, I don't know, like 26th or something, so for us, we knew we could have had this game. That is what keeps us up because we know we can do better than how we are doing and we know we need to work on the little things to take another step."
TDW plays again Monday at 9 a.m. and 7 p.m.