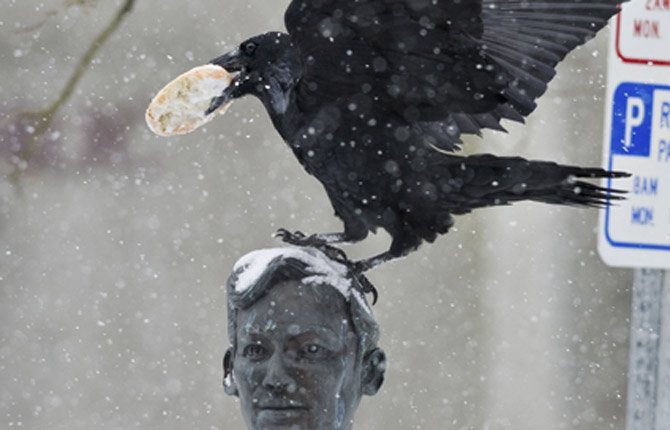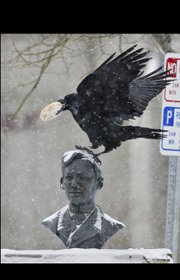 Cool Treat
A raven perches with a frozen bagel on the bust of Dr. Jose P. Rizal in Manila Square in downtown Juneau, Alaska.
AP Photo/The Juneau Empire, Michael Penn
Assad foes divided
WASHINGTON (AP) — Foes of Syrian President Bashar Assad are distracted by fragmentation within their ranks, foreign meddling and new finger-pointing over chemical weapons as the regime more firmly entrenches itself, giving no sign of stepping down any time soon.
With the two-year civil war slogging on, the United States appears closer than ever to sending military support to Syrian rebels in hopes of breaking the bloody impasse that has left more than 70,000 dead and forced more than 1 million refugees to flee their homes. Beyond at least the threat of military intervention, there is growing consensus among the U.S. and its allies that little can be done to put new pressure on Assad to go.
New allegations this week — almost as quickly debunked — that chemical weapons may have been used against neighborhoods outside Damascus and in Syria's north spooked the White House and Congress and ratcheted up demands for the U.S. to hamper what one Democratic lawmaker described as Assad's "killing spree."
ND: Life starts at conception
BISMARCK, N.D. (AP) — North Dakota didn't set out to become the abortion debate's new epicenter.
It happened by accident, after a legislative caucus that once vetted abortion bills languished, leaving lawmakers to propose a flurry of measures — some cribbed from Wikipedia — without roadblocks.
Long dismissed as cold and inconsequential, North Dakota is now trying to enact the toughest abortion restrictions in the nation. The newly oil-rich red state may soon find itself in a costly battle over legislation foes describe as blatantly unconstitutional.
Lawmakers on Friday took a step toward outlawing abortion altogether in the state by passing a so-called personhood resolution that says a fertilized egg has the same right to life as a person. The House's approval sends the matter to voters, who will decide whether to add the wording to the state's constitution in November 2014.
East Coast buzzes over meteors
NEW YORK (AP) — East Coast residents were buzzing on social media sites and elsewhere Friday night after a brief but bright flash of light streaked across the early-evening sky —in what experts say was almost certainly a meteor coming down. Bill Cooke of NASA's Meteoroid Environmental Office said the flash appears to be "a single meteor event." He said it "looks to be a fireball that moved roughly toward the southeast, going on visual reports." "Judging from the brightness, we're dealing with something as bright as the full moon," Cooke said. "The thing is probably a yard across. We basically have (had) a boulder enter the atmosphere over the northeast."
'Trek' film earns rebuke at IRS
WASHINGTON (AP) — Nobody's going to win an Emmy for a parody of the TV show "Star Trek" filmed by Internal Revenue Service employees at an agency studio in Maryland. Instead, the IRS got a rebuke from Congress for wasting taxpayer dollars. The agency says the video, along with a training video that parodied the TV show "Gilligan's Island," cost about $60,000. The "Star Trek" video accounted for most of the money, the agency said.
The IRS said Friday it was a mistake for employees to make the six-minute video, shown at a 2010 training event.