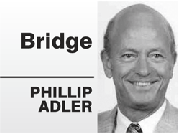 Thank you to everyone who entered my latest Christmas Competition. This was the second-biggest entry ever (behind 2000, the year with the senryu element), with emails and mail being received from around the planet, which was fun.
The best entry came from Craig Cordes of Baton Rouge, La. He finished just ahead of too many people to name here, but who can be found on my website
.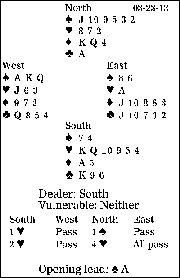 Now to today's deal, which could have the heading "If partner does something weird, do not assume innate lunacy; instead, look for his reason."
West was defending against four hearts. He took the first two tricks with high spades. What did he do at trick three?
When South rebid hearts to guarantee at least a six-card suit, North was worth a shot at game.
West realized that given the point-count, his partner could have only one useful card. If that were the diamond ace, he could shift to a diamond now and defeat the contract. (Note that this does not work here if South starts trumps by leading low from the board.) However, if East's card were the heart ace, a different defense would be required. Which way to turn?
Eventually West decided that he wanted to try to get into the newspapers. He led the spade queen at trick three.
This puzzled East. Why set up dummy's long suit? There seemed only one logical explanation. So East ruffed with his heart ace. And later West took a trick with the heart jack to defeat the contract.
West got into the papers but remained anonymous!