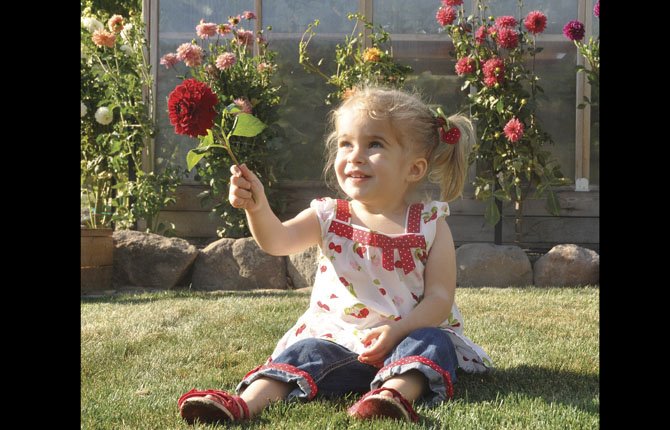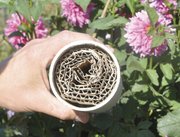 The Dalles — It's never too soon to be thinking about preparing for a garden full of colorful dahlias for late summer or fall.
These showy, long-blooming flowers come in enough choices to satisfy just about any appetite for color, size and design. Dinner plate blooms can be as big as the china they are named after, but more petite varieties may satisfy other tastes.
Mike Omeg has devoted much of his garden on Dry Hollow Road to a wide variety of dahlias. And this isn't the first home he has owned where the brilliant blooms have held sway.
"I bought my first house when I was just out of grad school, 12 years ago," Omeg said. "When I bought it, it just had a neglected yard — overgrown, a total mess. I wanted to go in and start over. I had a blank canvas upon which to work and one thing I really wanted to look for was a flower that bloomed for a long time."
After looking around, he found dahlias fit the bill.
"They bloom for a long time and there is a huge variety — on the order of a couple of thousand," Omeg said.
He started with four or five different varieties and every year added to the collection.
"Today I have about 45 different varieties," Omeg said.
Every year he adds more. In fact, he has extended the plantings beyond his own yard to the ranch facilities across the road, even though the beds are in partial shade, contrary to conventional dahlia wisdom.
"I learned that you can actually plant dahlias in partial shade and do fine," Omeg said. "If you read the books they say full sun."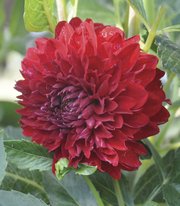 Omeg buys his dahlias from Swan Island Dahlias, which he says has hundreds
of varieties.
"I don't go for the more eclectic ones," Omeg said. "I plant the ones that I think look neat. And now that I'm married, I plant things my wife likes."
Omeg enjoys attending the annual dahlia festival at Swan Island the last weekend in August and the first weekend in September. He enjoys walking the fields during the free event where he can see different varieties first-hand and see how they grow.
"One thing I've learned is that you can look at just the picture of the flower in the catalog and it only tells you what the flower looks like," he said. "It doesn't tell you how the plant will look in the yard."
Some plants have short stems that are completely concealed by the flowers. Others have long stems that don't do well in the front row of a garden bed.
"There are some that grow six feet tall and others only grow three feet tall," Omeg said. "You don't want to put a tall variety in front of a short variety."
Festival staff members are also on hand during the event to answer questions.
Omeg and his wife, Lindsay, used to carefully plan and lay out each dahlia tuber.
"Now we have fun mixing everything up and putting them in
randomly," Omeg said. "But you can only do that if you have plenty
of fence line. If you're planting in groups, you don't want to do that."
And while most true dahlia enthusiasts dig up their tubers at the end of the season and save them indoors, the Omegs just leave them in the ground and take their chances.
"Some years, three quarters come up, but it's never less than half," he said, although eventually the tubers will die. "And if you want the biggest blooms, you should dig them up."
Dahlias should be planted after the last frost date, Omeg said,
usually the first part of May.
"You should not add compost at the time of planting," he said. "I like to put the compost into the bed the fall before. It lets it assimilate with the soil over the winter."
Dahlias prefer infrequent, but deep watering, Omeg noted. In the heat of summer, around mid-July, he waters once a week, turning on drippers at one gallon per hour, spaced 12 inches apart, and running overnight.
"I like to wet the top foot," he said. "Dahlias don't do well sitting in wet soil all the time. It causes them to rot."
Omeg also cautions about fertilizer.
"Dahlias do not do well with a lot of nitrogen," he said. "They get tall and spindly and tip over easily, and the blooms will break the plant." Nitrogen is the first number in the equation on the fertilizer packaging,
so Omeg recommends choosing one with a low first number, and higher second and third numbers (phosphate and potassium).
"When I plant my dahlias, I like to water them with a mixture of fish emulsion," he said. "It's liquid fish. It's kind of smelly, but the dahlias really do well."
Dahlias can also fall victim to two insect pests, unless precautions are taken.
Earwigs like to get inside the flowers and eat them out. Omeg uses an earwig trap made from PVC pipe filled with rolled cardboard.
"They like to get into tight places and hide," he said.
The cardboard can be soaked with insecticide, like pyrethrin.
"The traps work really well early," he said.
Thrips are the dahlia's other natural enemy. The minute insects arrive in big numbers in July to feed on the blossoms and buds, which can cause the dahlias to produce deformed blooms.
Omeg uses spinosad, which he says is a safe, organic pesticide, praying every two weeks.
Slugs can also be a problem and Omeg always mixes a bit of slug bait in the soil when he plants.
"I treat the area around the plants with iron phosphide slug bait, it's safe for animals."
For the biggest blooms, Omeg recommends pruning only after blooms have four or five whorls. Pruning earlier produces a lot of slightly smaller blooms.
Dahlias have a reputation for being difficult to grow, but Omeg
disagrees. And he has convinced quite a few friends and people who work with him on the ranch to grow them.
"Roses [which Omeg also grows] are 100 times harder to grow than dahlias," he said. "Roses get diseases, they're prickly, you have to be careful pruning them. They require more attention to water and fertilizer.
"If you can get rid of the slugs, thrips and earwigs, dahlias are not hard," he said.
Online: American Dahlia Society: www.dahlia.org