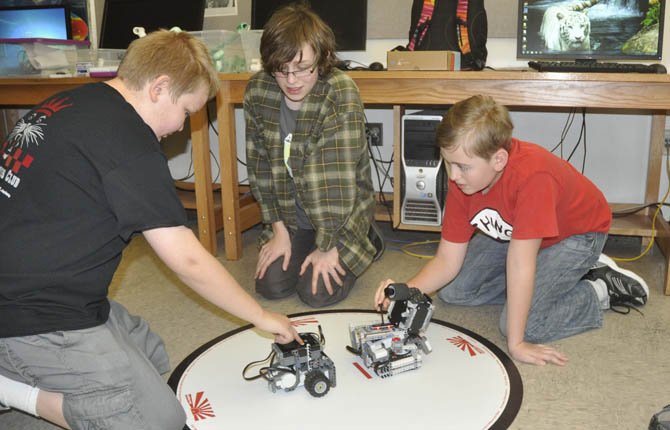 On a recent afternoon a room full of middle school and high school students were hard at work.
School was already done for the day, but these students chose to stay and work on their projects for the 4-H technology group. Some worked on "sugo bots," others on soapbox derby cars or underwater robots or designing video games.
Sara Bowers, a 14-year-old homeschool student, is part of both the Gamemakers group and an all-female soapbox derby team preparing for the Gorge Gravity Games. She loves the Mario Kart video games and said once she realized the soapbox derby cars were basically "home-built Mario Karts," she was in.
"I like both things for different reasons," she said. "The gamemakers is more computer based and the soapbox cars are more physical work."
Hannah Carlson, a member of Bowers' soapbox derby team, said she was glad she got involved.
"I like figuring out how it all goes together. I'm excited for the competition," she said.
Does she think her team will win?
"No. But I'm still excited."
Nearby, a group of middle school boys were making adjustments to their Sugo Bots after a competition the day before. The plastic robots, about six to eight inches high, compete sumo-wrestling style. The robot that pushes the other out of the circle wins.
Spencer Glenn, a sixth grader, said the better a team understands physics, the better their robot does.
"You can weigh down the front so the wheels will have more traction and stand against [the other robot]," he said.
Glenn also enjoys building soapbox derby cars. Last year his team placed first in the Gorge Gravity Games.
"It's really fun and everyone should try it," he said.
Brandon Kalsch was also working on a Sugo Bot and said he had a lot of improvements to make on his robot after the scrimmage the day before against other local teams.
"Mine totally failed against Calvin's because it didn't have treads, so now mine's going to have treads and crush his," he said.
The Gorge Gravity Games will take place May 11, and the underwater robotics team will compete in Lincoln City on May 4, so April will be a busy month for the 4-H tech group in The Dalles, as well as the one in Dufur. Holly Morris, who runs the tech groups for 4-H, said both communities' Sugo Bot competitions went well but she was especially excited about the turnout for Dufur's.
"Almost every parent, grandparent and sibling was there," she said.
Morris said juggling all the different types of projects can be busy, but it's important that the students know about specific career and educational options instead of just generally "engineering."
"Really it's just getting them exposed to as many different tech things as possible," she said.