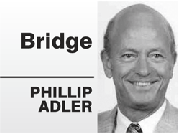 Surrealist painter Salvador Dali said, "At the age of 6, I wanted to be a cook. At 7, I wanted to be Napoleon. And my ambition has been growing steadily ever since."
If your partner's ambition in the bidding carries you to heights that your cards do not justify, try to find a line of play that will justify his optimism.
In today's deal, for example, suppose North and South soar to seven spades. West leads the club king. What should South do?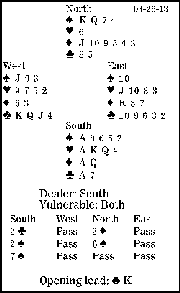 The first three bids in the auction are predictable (unless you have some snazzy responses to a strong, artificial and forcing two-club opening bid). Then, though, North's actual choice of six spades would not meet with universal approval. A jump to four hearts would be popular if it were read as a splinter bid, showing some values, four-plus spades and at most a singleton heart. When North jumped to the small slam, though, South read his partner for strong trumps, so thought his four aces justified raising to the grand slam.
Declarer has to assume the diamond finesse is winning. But he still needs to be careful with his entries. South should win with his club ace, cash two hearts to discard dummy's club loser (and to reduce the undertricks should things take a nasty turn), play off the spade ace, and lead a spade to dummy's queen. He continues with a diamond to his queen, the diamond ace, a spade to dummy's king, and a diamond ruff. Then he can claim because dummy is high, stating that he will ruff a heart or a club to get over there.