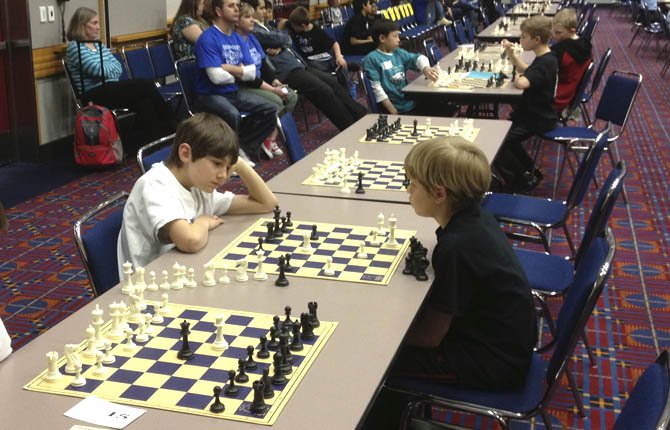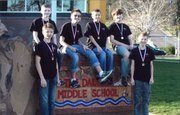 Students from The Dalles Middle School and Dry Hollow Elementary had the experience of playing chess on the state level the weekend of March 15.
The Dalles Middle School won one match and tied two additional matches for a total of two points out of a possible five putting them in a tie for fifth place at the team competition on Friday.
The Dry Hollow elementary students drew two of their five matches, tying them for eighth place in the team competition.
Noah Holloran (fifth grade) won seven of his ten matches over the weekend.
"He really played well; I was very proud of him," said father and volunteer Michael Holloran. "He was ahead in two of the matches that he lost and could have won. He was really only outplayed in one match."
Noah scored three points during the individual tournament on Saturday putting him in a tie for fifth place among all fifth graders in the state.
Jesse Larson (fourth grade) and Chase Snodgrass (an eighth grader who placed third last year) each won two of their five matches at the individual tournament.
Ben Waters (seventh grade) and Jacob Holloran (eighth grade), who also competed in the individual tournament, had some very tough competition, but showed great sportsmanship and never gave up.
"I am really excited to see these kids compete as high schoolers," Michael Holloran said. "I am really hoping I can find them a real chess coach who can help them improve."
He said a huge thank-you belongs to Loretta Newson of Gorge Recovery Services in The Dalles who donated six chess timers to help the junior high and high school chess teams practice for actual competition.
Holloran said the students have already been invited to other tournaments around the state and he is hoping to hold an open invitation tournament in The Dalles next year.
Those involved with chess in the schools are hoping to get more volunteers (parents or otherwise) who understand the game of chess to help mentor students. They are also hoping to find volunteers willing to get teams re-started at some of the other area schools.