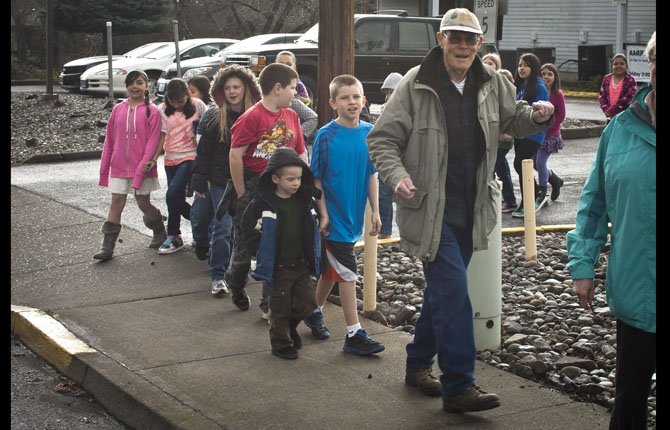 The Dalles — We as a society are often admonished to "think of the children," but last week the children were thinking of the adults when students joined in the "March for Meals" awareness event at the Mid-Columbia Senior Center.
Third graders from Colonel Wright Elementary joined senior citizens to march around the center chanting "Stop senior hunger!" For some of them it was probably just a fun excuse to miss school, but many of the children The Chronicle spoke to expressed sincere concern for senior citizens like their grandparents and neighbors.
We need to remember that for all their wisdom and experience, the elderly can sometimes be just as vulnerable as young children once their health starts declining. As a society we have an obligation to look out for them, including making sure they have enough to eat.
According to the Meals on Wheels Association of America, one in seven seniors in America are threatened by hunger — a 78 percent increase since 2001. That's what makes programs like Meals on Wheels, which delivers meals to homebound seniors and also serves them at the senior center, so important.
The government is cutting back money for senior nutrition programs yet again as part of the sequester cuts. Of course times are tough and all government programs need to be prepared for a little belt-tightening, but out of all the places we could cut government spending, there are plenty less important than senior nutrition sites.
Making sure those who have contributed so much to society — through supporting a family, raising children, defending our country, volunteering, teaching and more — have such a basic necessity as food on their plate is something we should feel a moral obligation to do.
More than taking care of their physical needs, meal programs also provide needed social support as seniors get a visit from a volunteer or visit with other seniors at the meal site. That human contact can be just as important, especially for those who don't get frequent visits from family.
Senior meal programs are not just a bleeding heart feel-good program. They're also good business sense. Nationally, Meals on Wheels says 93 percent of its clients surveyed said the program allows them to stay in their own home. Think of the money saved every year when hundreds of thousands of seniors receive a daily meal worth a few dollars, delivered by volunteers, instead of care in a costly assisted living facility.
Locally, recipients of food from Meals on Wheels have been helped further by an initiative by Home at Last. The animal shelter helps seniors with pets get food for their animal delivered along with food for the humans at home. Before that idea came along, Meals on Wheels employees say, some seniors were sacrificing at least part of their meal to feed their beloved cat or dog because they couldn't afford pet food anymore.
Those types of creative solutions to help seniors are great — along with programs to help seniors on a fixed income get dental care, legal aid, house cleaning help, budget advice and mental health counseling.
Of course, not everything has to be an official program. We can all help the older generation.
We can make sure our elderly family members are taken care of and get to see their children and grandchildren as often as circumstances allow. We can visit senior citizens who don't get out much, invite them to dinner or at least pick up the phone occasionally and lend a listening ear.
We can pay attention to elderly neighbors and look for signs that something is amiss. We can encourage teenage children to mow that neighbor's lawn or shovel a snow-covered sidewalk for free.

We can support food banks, Meals on Wheels, community dinners and other nutrition programs.
Let's listen to those third graders and "Stop senior hunger!"