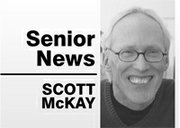 For over 26 years the Mid-Columbia Senior Center has played an important role supporting older adults in the region by providing opportunities to explore, connect and contribute.
And, whether you are 55 or 95; or visit the center every day or once a month for breakfast, I am personally asking you to join the 300 other members in supporting the center and its mission of promoting healthy aging by sharing and caring.
The membership dues are only $35 a year or $60 for a couple. And if you want to join Patti Blagg and become a Super Duper member, it is $50 per person. This is the last week of the Center's Spring Membership drive, so mail your membership dues in now — before you forget again — to the Mid-Columbia Senior Center at 1112 W 9th Street, The Dalles, 97058. And THANK YOU for your support.
Since watching the trailer for the documentary "Ping Pong," about eight table tennis competitors with a combined age of 703 competing in the 80+ world table tennis championships, I have started a 60+ table tennis club at the center on Thursdays from 11 a.m. to noon. Table tennis is a great sport at any age, but particularly when you are older because it has all the excitement and challenge of tennis, but is easier on the body and knees. But we could really use several more players to join us — to add a little more competition, but more importantly, to remember after a long volley who was serving!
You probably have your own opinions about how Oregon supports low income families, but what do you really know? At the center's 11 a.m. Tuesday Lecture on April 2, Susan Gabay, who works for the Oregon Department of Human Service, will help you better understand how low income families are assisted in Oregon.
Let me quickly mention "For the Good Times" is playing tonight at the Center. And next Tuesday it is back to the front of the line with "The Strawberry Mountain Band." Music begins at 7 p.m., everyone is welcome and donations are always appreciated
Last Wednesday, Lauren Kraemer, OSU Extension agent, discussed the importance and benefits of good nutrition at the March "Passport to Happiness" event. (The next event will be at the center on April 17) I was once again reminded to eat more whole grains, add color to my meals by including more vegetables and fruits), and to eat a variety of foods (but I like my banana every morning!). Lauren also prepared three different healthy dishes including one with Quinoa (it does taste good while taking less time to cook compared to brown rice) and a Popeye Power Smoothie (with, you guessed it, fresh spinach!)
Find more of these "quick, tasty, and healthy recipes" on the OSU's web site at www.foodhero.org.
But one of the ingredients Lauren used for the Popeye Power Smoothie was a cup of Nancy's Yogurt — which brings us to this week's "Remember When" question. In 1969 Nancy Hamren (the namesake for Nancy's Yogurt) met this counterculture leader and author who invited her to take care of his Pleasant Hill farm — which eventually led her to work for the author's brother at a little creamery in Springfield.
What was the name of the author? E-mail your answer to mcseniorcenter@gmail.com, call 541-296-4788 or send it with a picture of "Further" the 1939 International Harvester School driven by the Merry Pranksters.
And I can't forget the 1971 bestseller that Frances Moore Lappe wrote claiming a vegetarian diet was better for the body and the planet was "A Diet for a Small Planet." (And by a flip of a coin between the two entries from Jim Heitkemper and Joanne Scott (who really prefers cookies) the winner is Jim Heitkemper.)
Well, it has been another week watching
soap bubbles dance in the wind. Until we meet again,
"There is nothing more notable in Socrates than that he found time, when he was an old man, to learn music and dancing, and thought it time well spent."
—Michel de Montaigne
menu
Wednesday (27) Chicken with Alfredo Sauce
Thursday (28 Spaghetti with Meat Sauce
Friday (29) Hot Chicken Salad
Monday (1) Meat Loaf
Tuesday (2) Chicken and Dumplings