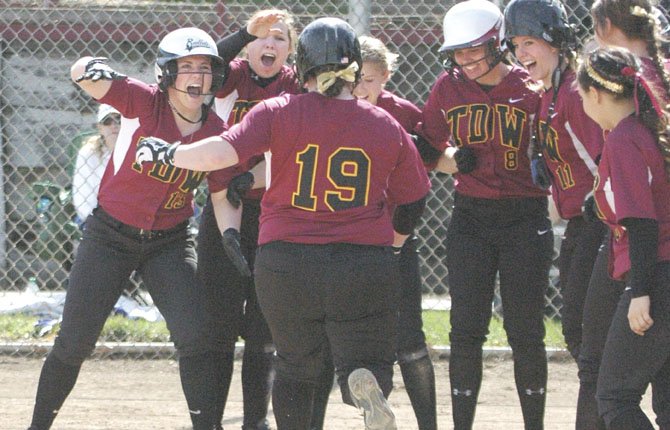 It had been a long day at the ball field for The Dalles Wahtonka coach Steve Garrett – a happy one though.
TDW totaled 19 hits and both Morgan Triperinas and Carley Gowdy put forth stout pitching performances in a pair of wins over Molalla and Century Monday in TD Invitational Spring Break Softball Tournament play in The Dalles.
"We started with a game plan and for the first time, we stuck with it and made the game plan work," Garrett said. "We had good pitching, we put the ball in play and we made the plays defensively. Everyone stepped up. We had a lot of moving around with players in different positions and they played their hearts out and contributed. It was a great job all the way around."
In the opener, Melanie Taphouse hammered the eventual game-winning home run in the top of the eighth inning and the Eagle Indians rallied late for a 7-4 victory over the Molalla Indians.
"It was an amazing win for us," Taphouse said. "I can't believe we pulled it off. We did not give up at all even when we were losing. Everyone picked each other up and it was nice to see us all come together."
TDW freshman Ruthie Ford evened the score at 4-apiece with a run scored in the seventh to send this matchup into extra frames.
With the international tiebreaker rules in place, senior catcher Katherine Kramer was at second base to start things out.
On the 1-0 pitch, Taphouse rifled a deep fly ball more than 220-feet away over the left centerfield fence for a two-run home run to move the Tribe in front by a 6-4 margin.
"Honestly, I was just looking for a base hit," said Taphouse, who now has two career long balls. "I just made that solid contact and there it went, so I was pretty happy to help my team out."
TDW would then tack on another run to make the count 7-4 entering the bottom of the eighth frame.
Triperinas, the Eagle Indian starter, had gone the distance in this contest and retired the first Molalla batter on a ground out.
She then threw out another runner trying to score from third base on a grounder hit in her direction, before inducing a game-ending flyout to Lori Cimmiyotti in right field.
Triperinas tossed eight innings of six-hit ball with five strikeouts and no walks.
After allowing three runs in the third inning, the junior ace gave up three hits and an unearned run to go with three strikeouts over the final five frames.
"She is an amazing pitcher," Taphouse said of Triperinas. "She hits her spots. Sure, she may not be the fastest out there, but she is so amazing at it. I give her props for a great job."
Offensively, Taphouse, Meghan Rowland and Triperinas had two hits each. Goslin added a double and a run scored, and Shaela Buchanan finished with a stolen base and a run scored on the day.
In the nightcap, 10 Eagle Indian players posted hits and Triperinas reeled off a double, a triple and two RBIs to spearhead a 12-hit barrage in a 10-0 mercy-ruled whitewash of Century.
After a 5-4 loss to Redmond on Friday, TDW has rebounded quite nicely with impressive performances from a variety of stars.
"That's what we continually do. We look to the next game and not look back," Gowdy said. "We know that we have it, we just need to continue with our confidence and it takes us places."
TDW scored in every inning but the second and with the score reading 8-0 in the bottom of the sixth, a three-hit rally sealed Century's fate.
Buchanan and Taphouse kicked things off with consecutive singles to put runners on the corners.
One out later, freshman Grace Helyer hit an RBI bloop single to left to chase home Buchanan to put Tribe ahead, 9-0.
Taphouse was at second base and Grace Helyer stood at first for Gowdy.
The senior hit a hard ground ball in the hole at short and a hurried throw went past the first baseman. Taphouse then scampered home for the final tally.
Katie Helyer and Taphouse notched two hits each, as Taphouse scored twice and had an RBI, while Helyer drove in a pair, doubled and scored a run.
Kella DeHart, Buchanan, Rowland and Gowdy had a hit and a run scored each. Goslin hit an RBI double, Hannah Harris crossed the dish once and Kramer went 1 for 2 with a walk, two runs and a stolen base.
From the circle, Gowdy picked up the win, as she tossed four innings and allowed two hits.
She struck out one, walked one and allowed one Jaguar runner to advance past second base.
Gowdy had her screwball dancing all over the plate keeping the Century batters off-balance.
"I go into every game believing that we are going to win," Gowdy said. "I have confidence in my team. I had good defense behind me and it carried along in the game."

After an 11:30 a.m. game earlier today, TDW (4-3 overall) plays Gresham at 7 p.m. tonight.

Tribe nine blasts Parkrose in a pair
It took a little while to build up some steam, but once The Dalles Wahtonka engine started revving, the 5A classification's top-scoring offense was on full throttle.
T-Dub's varsity baseball team posted a doubleheader sweep over Parkrose Monday at Quinton Street Ballpark in The Dalles.
The Dalles Wahtonka gashed Parkrose pitching for 15 hits and 17 runs and won by lopsided tallies of 7-3 and 10-0.
TDW was also issued seven walks and the Broncos committed nine errors.
During their four-game winning streak, the Eagle Indians have outscored opponents by a 37-5 margin.
With the aspects of ball like hitting, pitching, defense and base running taking its course, TDW coach J.R. Runyon still sees some areas he wants cleaned up, so this early-season success continues.
Most importantly, it is about the players starting with aggression as opposed to taking a few frames to find a groove.
"It is about them having that fire in their bellies from the beginning of the game," Runyon said. "When you show up to the park, you are ready to dominate and ready to explode. We need to find that killer instinct. When they start to figure that out and they come out and they are ready from the get-go, things are going to be really good for these guys."
Through eight games, the Eagle Indians have scored 58 runs and they boast a team batting average of .330 to go with 26 walks and 35 strikeouts in 260 combined plate appearances.
In the opening game, TDW trailed 3-1 in the fourth inning, but rallied for six unanswered runs, including four in the sixth inning of a 7-3 win.
With the score deadlocked at 3-apiece, Zach Cantrell and Kaci Kiser got things moving with back-to-back walks.
One out later, Justin Sugg roped a 3-2 fastball for a two-run single to left field to score both runners and give TDW a 5-3 lead.
Sugg moved to third base on a stolen base and an error and Connor Mathisen then reached on a walk to put runners on the corners for all-state third baseman Nolan McCall.
One pitch later, Mathisen stood at second after a stolen base, and on a 3-2 pitch, McCall hit a blast through the middle into centerfield to cash in both Sugg and Mathisen and increase the T-Dub advantage to four runs.
Cantrell rolled out to the mound in the seventh and shut down Parkrose in order to seal his first victory of the 2013 campaign.
The Eagle Indians had seven hits and the team's leading hitter Kiser (.476), dropped a 2 for 2 effort with a walk, a stolen base, a run and an RBI.
Sugg and McCall chipped in a hit, a run and two RBIs, and teammates Dakota Walker and Austin Wilson scored a run each.
On the mound, the TDW pitching trio of Walker, Cantrell and southpaw Clayton Ringer allowed three runs on six hits with a combined six strikeouts.
Looking for an early-season sweep, the Eagle Indians needed only six innings to cruise home for a mercy-rule drubbing of the Broncos.
Most of the damage came in a seven-run fourth inning where four hits and three Parkrose errors opened the floodgates.
Wilson started the surge with an RBI groundout. With two outs, both Clay Copper and Austin Keller scored on an error.
Kiser then singled to drive in Hunter Malcolm and Steven Bartells brought in Kiser with another single to center to run the count up to 5-0.
Sugg reached on a single and Mathisen roped a two-run double to right to cap the inning.
TDW padded its lead in the fifth inning on a balk and a wild pitch, and then in the sixth frame, McCall drove in Sugg, who walked to lead off, with a game-ending double.
Both Malcolm and Mathisen drove in two runs, and Copper and Sugg scored twice. McCall, Kiser, Malcolm and Bartells scored once and had a hit.
From the mound, Bartells tossed five innings of one-hit ball with five strikeouts and no walks.
Parkrose's lone hit came with two outs in the first inning. After that hit, Bartells slammed the door shut by retiring 13 batters in a row.
Wilson entered in the sixth and held Parkrose without any hits for his scoreless frame.
Although the offense is top-ranked, the Tribe pitching staff has proven to be a good mark in the grand scheme of things.
This group has allowed 22 earned runs and 44 hits in 49 innings for a 3.14 earned run average.
They have 39 strikeouts and 17 walks as well, while holding opponents to a scant .233 batting average.
TDW did not commit an error in 13 innings Monday, and they have just five in eight contests for a fielding percentage of .977.
So far, the numbers look promising to Bartells.
"We have not peaked yet, but hopefully we can get there by the time league starts," he said. "Baseball is a game of timing. If we are hot by around league, I don't see anybody stopping us. This team has the potential to go far, but we need to keep working to get there."
In the scope of this eight-game snippet, Kiser feels the offense can make everything else flow.
Yes, the team batting average is .330 and the slugging percentage is .412, but TDW has still stranded 58 runners on base.
Much as the sentiment Runyon echoed, Kiser is on the same page with the same thought process.
"We need to keep scoring runs when we have a chance," Kiser said. "The important thing is that someone has to start it off. Once we do, we get it going. That is what counts. We just have to keep pushing and keep pouring it on, don't stop and keep shoving it down their throat."
TDW (6-2 overall) hosts 6A Century (3-3) at 2 p.m. Thursday, and then the Tribe plays host to Corvallis (1-2) at 2 p.m. Friday afternoon.