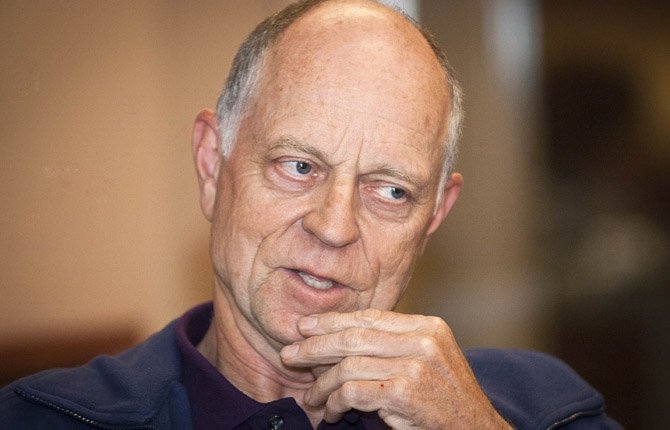 The Dalles — A downtown business owner appears to have turned in enough signatures of opposition to stop The Dalles City Council from moving forward with a tax to aid The Dalles Main Street.
Chuck Langley, owner of Columbia Wind Rider Inn, turned in the signatures Tuesday of 46 people representing a total of 76 out of almost 200 tax lots that would be affected. Because the city capped the $250 per tax lot assessment proposal to three lots, five of the lots presented by Langley qualified for that exemption, bringing his count of affected properties down to 71.
"I had no problem getting people to sign because they are really upset about this because they don't think it's the answer," said Langley, who knows of several other property owners who will be submitting their own letters of objection. "I think the whole thing has sort of been pushed by less than 10 percent of the people who own properties downtown — and a lot of people who don't."
Written objections from the owners of properties comprising 33 percent of the assessed value for an Economic Improvement District are needed to stop its enactment. The city planned to collect letters of opposition until April 12 and then hold a public hearing on the issue April 22.
Julie Krueger, city clerk, said the signatures on the petition submitted by Langley now have to be verified. If there are enough valid signers to meet the 33 percent threshold, she said the city council will have to make a decision about how to proceed.
Langley said a high number of business owners have registered objections to the proposed tax at every meeting the city has held on the issue. However, he said the plan to assess properties for three years in part to pay for the services of an executive director for The Dalles Main Street Program, a nonprofit organization, have moved forward anyway.
Main Street wanted someone working to market the are, fill some of the 40 empty shops downtown and plan promotional activities to draw community members and visitors into the area.
"Hopefully, we'll figure out a way to save our downtown; that's my concern," said Chuck Covert, a downtown business operator and member of the Main Street steering committee, after hearing of Langley's petition.
"We need to do something to stop the trend that is happening downtown right now."
The Main Street group was slated to receive about $49,000 per year in revenue from the assessment over a three-year period. The city had offered use of office space and equipment to Main Street and also budgeted $30,000 to cover some of the salary costs for the director in the current fiscal year, if the district was approved. Another $20,000 would have been provided in 2013-14 and $10,000 in 2014-15 to help the marketing program get up and running. By the time that funding phased out, Main Street planned to replace the money by seeking grants and fundraising.
The first proposal, presented by Main Street in fall 2012, was dropped after a public hearing drew so many dissenters it became clear there was not enough support to form the district. The assessment on properties, if that plan had been approved, would have been much higher. Main Street was seeking a 5 cent per square foot assessment on downtown tax lots that included both parking lots and building space.
"The city council is arrogantly refusing to listen to the will of the people; they are out of touch," said Langley. "There's not one person who objected to the EID who didn't want to see something good happen downtown, but hiring a marketing person isn't going to fix this problem."
He concurs with the letter submitted by John Huffman, owner of a Second Street property within the proposed district. Huffman, speaking in his capacity as a private citizen and not a state representative, wrote that downtown buildings would be filled if the city's industrial and commercial sectors were vibrant.
"Based on this belief, a community should focus economic development budgets to recruit these base community wealth-generating businesses," wrote Huffman. "If we build these, the retail and service will come. I further believe most of what could be done in a Main Street Program should largely be accomplished by business owners, property owners, a downtown committee and the Chamber of Commerce."
Similar comments had been expressed by other property owners at the March 11 hearing where the city council decided to proceed with formation of the district. Most of the officials believed that limiting taxation to three lots for any one property owner would alleviate some of the financial concerns that had been expressed. Only one tax lot on Fourth Street per owner could be taxed under the latest proposal out of the elected body's belief that Second and Third streets were the areas of greatest concern and were likely to benefit the most from marketing efforts.
Langley said the city could focus on removing regulatory impediments to business growth and providing practical assistance to commercial enterprises and forgo "creating another lay of bureaucracy" paid for by more taxes.
He said the city has shed some of its responsibilities with the creation of Mid-Columbia Fire and Rescue District and the Northern Wasco County Parks and Recreation District. Meanwhile he said the annual salary of Nolan Young, city manager, is slightly more than $102,000 and Dave Anderson, public works director, earns about $91,000, with other department heads following close behind. He said city officials earning these types of wages should be expected to make extra efforts toward economic development and not put that burden on a struggling private sector.