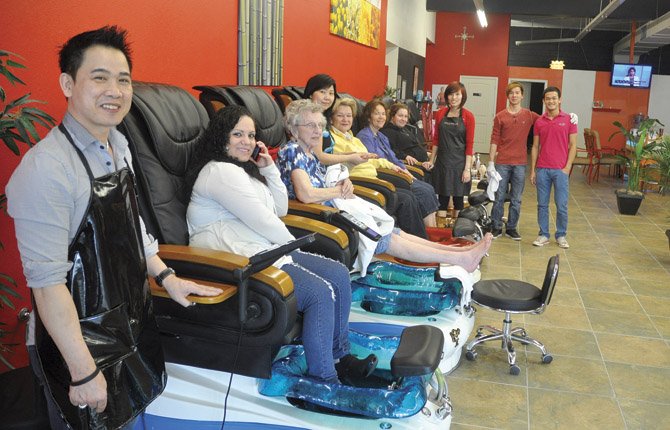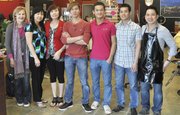 The Dalles — Ten years after it first opened in The Dalles, Studio Hair and Nails is celebrating the grand opening at its new location, 1008 W. Sixth St. in The Dalles.
Owners Henry and Kathleen Tran purchased the building formerly occupied by the Habitat for Humanity ReStore. They will be celebrating their grand opening through April 15.
With the help of the family, the owners remodeled the building into a bright, airy spa setting where pedicure chairs line one wall, hair styling lines another and nail services run through the middle.
"It took a lot of work," Henry said.
The work is evident from the transformation from its previous use as warehouse and home fixture showroom.
The larger location allows the business to offer services in private rooms including tanning, waxing and massage. They also offer facials.
"This is a family business; I'm the adopted one," said Robin Masters, who has worked for the business since it opened in 2003. "Henry and Kathleen are a hard-working couple. They came to America, learned the language and started a business."
The business started about 10 years ago in the shopping area at Ninth and Trevitt streets, then moved to leased space near the Walmart Pharmacy before the owners purchased the current location.
The owners also have a Hood River location known as Studio Spa, which Kathleen operates.
"We appreciate all the business [and our clients]," Henry said.
"It's our customers who have made us a success," Masters said. "I think people like our loyalty. This is not just a corporation, it's a family business."
Studio Hair and Nails serves the entire family, from baby's first hair cut to senior citizens. It offers special discounts for seniors on Tuesdays.
The business is also offering specials for its grand opening and has packages for nails and tans.
"Even though we're upscale and trendy now, we still cater to seniors," Masters said.
Studio Hair and Nails also sells a full range of hair products including Paul Mitchell, ISO, Biolage, It's a 10, and others.
Studio Hair and Nails welcomes walk-ins or call for more information at 541-296-6991.