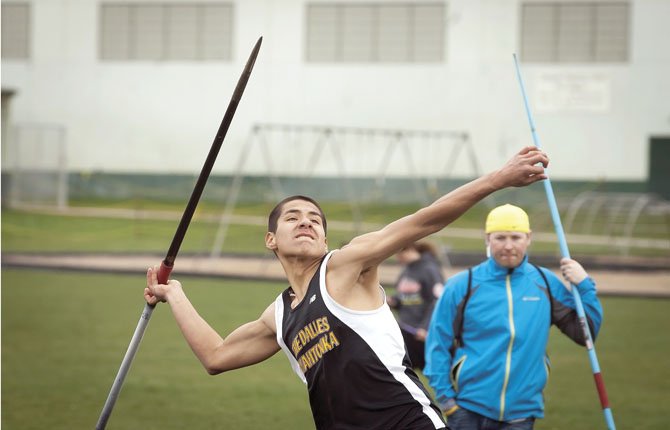 The Dalles — The Dalles Wahtonka track and field team hit the rainy terrain for the Sherwood co-ed relays on Wednesday and put up some good performances overall with personal records and good finishes for this early in the season.
"I thought our team did a great job against some good competition," said TDW head track and field coach Garth Miller. "We continue to work hard and put up some good performances as a team. I think we can improve even more as long as we stay focused during practice."
On the day, 2012 state placer Lio Tunai continued his shotput dominance, taking first-place honors with a distance of 52-feet-3.5 inches.
Harris Farr appears to be hitting a high mark for a state trip, as he chalked up first place in the long jump with an impressive distance of 19-feet, three inches.
On the girl's side, Yasmin Hill added a gold medal in the high jump with a height of 4-08 topping the field.
Katie Burns joined in on the upper echelon with first place in her try at the 300-meter hurdles, where she stopped the watch in 53.91 seconds.
Maddie Wood ended up third in her top event, the 3,000 meters, with a marker of 11:41.06 telling the story.
Emily Morin added a 12:12.03 for eighth place in the same event.
Katie Conklin finished seventh in the 100-meter hurdles at 20.09, and Burns tallied a 20.10 for eighth in the standings.
Hannah Schechtel tossed a 28-02 in the shotput to place fifth, and Olivia Starks added another fifth placing to her record with a 91-06 in discus.
Right behind Starks was Schechtel, who threw an 88-02 for sixth place.
On the boy's side, Zach Nerdin did well in his multi-faceted day on the track.
Nerdin ended up fifth in triple jump at 35-05, and added a third in high jump where he crossed the bar at a high of 5-10.
Farr moved in the right direction once again in the high jump as well in a fifth-place deadlock with Nerdin at 5-10.
Mark Johnson had a top height of 10-00 for fourth place in the pole vault, and Sant Strassheim followed up the pack in second place in the long jump, where he soared as far as 19-02.
David Esquivias had a good distance in javelin at 129-04 for sixth place and Joey Duong had a toss of 121-09 for fourth place in the discus.
Tunai added a second-place turnout in discus where he muscled home a 125-03, just a few inches short of the top tosser.
TDW is resting this week for spring break, but this high-flying group will hit the track once again at 3:30 p.m. for the Columbia River Conference JV tournament on April 2.
At 4 p.m. April 5, the team travels to Mount Hood community college for another big test.