The Dalles — In order to succeed, your desire for success should be greater than your fear of failure.
— Bill Cosby
(It's National Expect Success Month.)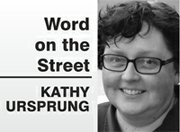 Show your best cherry face: Friday is the last day to enter the Cherry Enchantment Window Decorating contest for Northwest Cherry Festival.
The Cherry Festival theme is "Cherry Enchantment," which should be good inspiration for local store window imagination.
The event is organized by The Dalles Main Street promotion committee. "It's fun, it's easy and you will help create a festive environment for locals and those coming for Cherry Festival," the literature reads.
Complete an application form and return it to Addie Case at Cousins' Country Inn, 2114 W. Sixth St., email addie@cousinscountryinn.com, or fax 541-298-6411 by Friday, March 29.
Windows should be decorated by Tuesday, April 16. Judging will take place April 17 through April 25. Vote at a variety of downtown locations (places to be determined).
Winners will be posted at facebook.com/tdmainstreet. Prizes include a copy of Linda Cahan's book "100 displays for $100" and local gift certificates.
And speaking of cherries: In preparation for expected growth in both retail and food service areas, grower-owned cooperative Oregon Cherry Growers has added three food industry veterans to its managment team, complementing new president and CEO Tim Ramsey's 30-year background working with national brands.
Julie Poduch joins the team in the newly created position of vice president of marketing. Poduch has more than 25 years of marketing experience, prdominantly for food products sold in to the retail and food service markets.
Christian Fauser is the new national sales manager of food service, to lead national sales and development. He has extensive experience selling both branded and private label products for companies such as Sara Lee and Unilever and over the years he has created relationships with many of Oregon Cherry Grower's current foodservice customers.
Sue Root, recently joined Oregon Cherry Growers as field services manager, connecting her passion for working with growers in the field to her operational experience working in the food industry, to lead field services in the Willamette Valley. In addition to spending more than two decades working with Oregon food processor Truitt Brothers, she has a direct connection to Oregon Cherry Growers — her parents are long time cherry growers in Mosier. Root has been active in Oregon's food industry, serving on several association committees and is currently on the board of directors for the Northwest Food Processors Association.

Cherries, part three: Oregon Cherry Growers has submitted an application for administrative action to approve creation of eight holes for additional cherry ponds and to raise 200 feet of the roadway by eight feet at their property at 101 Madison St., in The Dalles.
Written comments on the application will be accepted until 5 p.m., Wednesday, April 4, at The Dalles Planning Office, 313 Court St., The Dalles, OR 97058.
Get pampered: The Dalles Wedding Place offers an afternoon of glamour for women and a chance to get pampered by a professional hair stylist, make-up and photographer from Los Angeles, with clothes and jewelry. A 10-by-13-inch portrait is included.
The event is Sunday, April 21, from 10 a.m. until 6 p.m. and the shop's 316 E. Second location in The Dalles.
Cost is $30 and an RSVP is required. Owner Nancy Fork suggests inviting girlfriends and sisters to this 21-and-older event.
Eye on Extension: Lynette Black with the Oregon State University/Wasco County Extension Service will be the guest speaker at the next meeting of The Dalles Area Chamber of Commerce Government Affairs Committee Thursday, March 28, at 7 a.m. at the Barbecue Restaurant, 1003 W. Sixth St.
Upcoming programs include Sen. Ted Ferrioli calling in April 4 from Salem and the Columbia Gorge Ecology Institute April 11.
Free small business classes: Grant-funded classes for Washington microenterprises are being held in Goldendale and are sponsored by Klickitat County.
Cash flow management to keep your business afloat is Monday, April 8, from 6 to 8:30 p.m. at the Klickitat County PUD meeting room.
This workshop will discuss why it is important to perform cash flow analysis, how to do it, and the impact it can have on the way a business owner runs a coupany.
Advance registration is required. Call Columbia Gorge Community College at 541-506-6121.