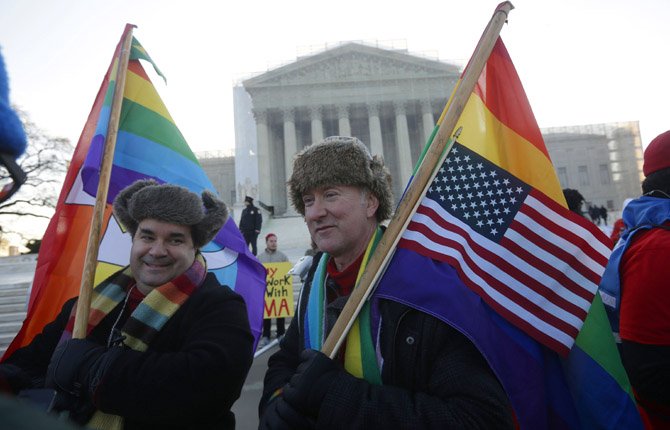 Hunters boycotting Colorado
COLORADO SPRINGS, Colo. (AP) — Hunters across the United States are boycotting Colorado because of recent legislation meant to curtail gun violence.
Michael Bane, a producer for The Outdoor Channel, announced he will no longer film his four shows in Colorado, and hunters are joining the protests. Hunting outfitters say people began cancelling trips after the legislation passed, the Colorado Springs Gazette reported. The numbers are few, but growing.
Colorado's governor signed bills this month that ban ammunition magazines that hold more than 15 rounds, and require background checks for private and online gun sales.
N. Korea cuts military hotline
SEOUL, South Korea (AP) — Raising tensions with South Korea yet again, North Korea cut its last military hotline with Seoul on Wednesday, a link that has been essential in operating the last major symbol of inter-Korean cooperation: an industrial complex in the North that employs hundreds of workers from the South.
There was no immediate word about what cutting one of the few remaining official North-South links would mean for South Korean workers who were at the Kaesong industrial complex. When the link was last cut, in 2009, many South Koreans were stranded in the North.
The hotline shutdown is the latest of many threats and provocative actions from North Korea, which is angry over U.S.-South Korean military drills and recent U.N. sanctions punishing it for its Feb. 12 nuclear test.
Abortion battle looms in N.D.
BISMARCK, N.D. (AP) — North Dakota Gov. Jack Dalrymple said his decision to sign strict new abortion laws, including the nation's toughest restriction on the procedure, was not based on "any religious belief or personal experience" and that he believes legislators have a right to ask such questions about abortion restrictions.
The Republican governor signed three anti-abortion measures on Tuesday — including one banning abortions as early as six weeks into a pregnancy, or when a heartbeat can be detected. By doing so, Dalrymple positioned his oil-rich state as a primary battleground in the decades-old fight over abortion rights.
Within minutes of signing the laws, unsolicited donations began pouring into the state's lone abortion clinic to help opponents prove the new laws are unconstitutional. The governor urged lawmakers to set aside cash for an inevitable legal challenge.
Obamacare study looks at cost
WASHINGTON (AP) — A new study finds that insurance companies will have to pay out an average of 32 percent more for medical claims under President Barack Obama's health care overhaul.
The estimates from the Society of Actuaries could turn into a political headache for the Obama administration at a time when much of the country remains skeptical of the Affordable Care Act.
The study says claims costs will go up largely because sicker people will join the insurance pool. That's because the law forbids insurers from turning down those with pre-existing medical problems, effective Jan. 1.

The Obama administration challenged the design of the study, saying it focused only on one piece of the puzzle and ignored cost relief strategies in the law such as tax credits to help people afford premiums and special payments to insurers who attract an outsize share of the sick.