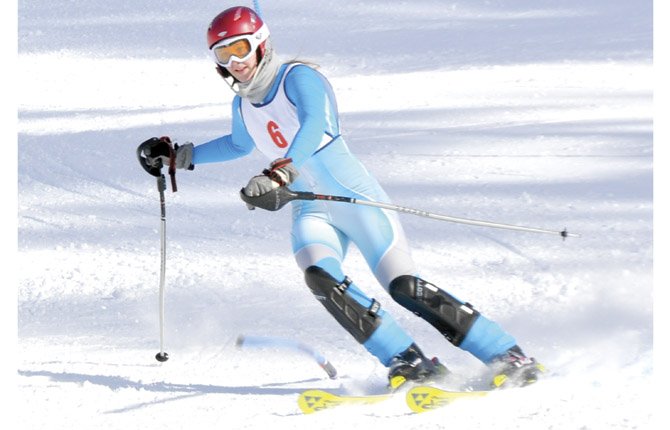 Maya Barnard-Davidson is blessed with an opportunity of a lifetime — to compete on a national stage against some of the best freestyle skiers in the United States.
Barnard-Davidson is off to Colorado as an invite for the 24th annual United States of America Snowboard Association Nationals at Copper Mountain.
"I am happy to say that I will be going and competing with other nationally-ranked women skiers," Barnard-Davidson said.
In a three-day stretch starting on Sunday, April 7, Barnard-Davidson kicks off competition for Slopestyle and after another round Monday, she caps her slate Tuesday for the halpipe portion of action.
To be invited, skiers have to be nationally ranked in the top-15, and Barnard-Davidson said that through hard work in the competitions, she earned the rank of fourth in the halfpipe and 13th for slopestyle.
Spring break came at a perfect time for the Eagle Indian skier, who has used this week and prior weeks leading up to prepare for her competitions in early April.
She will leave no stone unturned in her preparation phase, working out all of the fundamental elements in each session.
As a representative of The Dalles, TDW High School and the skiing program, Barnard-Davidson is determined to put on a good show.
"I will be practicing even harder than I have been to be able to compete as well as possible," she said.
In the last two years, Barnard-Davidson has displayed her talents in the freestyle portion of the Oregon Interscholastic Ski Racing Association finals and put forth a respectable effort.
In 2012, Barnard-Davidson picked up a third-place ribbon for her efforts.
She notched fifth in her slopestyle run and she just missed out a state title, but grabbed a tie for second in the halfpipe portion.
In late February this season, Barnard-Davidson secured a big freestyle victory on the halfpipe to put herself at No. 3-ranked overall across the nation.
For her final campaign, the success was quite the boon for a grateful Barnard-Davidson.
"It was a great season," she said. "As always, ski team was a very fun experience."
In her last competitive event in early March, Barnard-Davidson shredded at the OISRA state championships with good freestyle performances on the Mount Hood slopes.
The Tribe senior finished sixth overall in the standings with 476 points, as she scored 166 in the halfpipe for third place.
She added a 164 in slopestyle, which chalked up fourth place and tacked on a 146 in the rail jump.
Barnard-Davidson had a pair of top ribbons to her credit. The judges, who awarded her the Skimeister Award, which is the overall combined alpine and freestyle award, noticed this standout accomplishment.
She wound up in fifth place with a combined trophy (230 points) for her work on both the giant slalom and slalom courses out of a field of more than 100 girls.
This is good first step for Barnard-Davidson, who has aspirations of taking her ski skills to higher levels as a college or professional performer.
"It has always been a dream of mine to go somewhere with my skiing, be it professional or just to be able to continue," she said. "I really don't know what will happen at nationals and I don't know what it could do for my future, but I am hoping for a positive outcome and experience."
Now that she is hanging up her high school skis, Barnard-Davidson is hoping her rise in the rankings and the extra opportunities it has presented could be an inspiration to many young girls in the future.
She played more of a leadership role on the varsity squad, so her experience was soaked up by a handful of younger skiers like Alyssa Carrico, Zoe Ley and Emma Ell-Smith, along with sisters Bailey and Carsen Cordell.
"My experiences as a young skier with a dream gave me one piece of advice for anyone – to keep trying no matter what, and don't give up on your dream," Barnard-Davidson stated.
To keep tabs on Barnard-Davidson's progress, fans can long on to https://www.usasa.org/events/nationals/2013-ski-nationals/546-2013-usasa-nationals-ski-comp-groups-a-schedules.html.