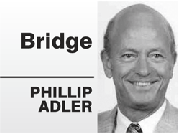 In "Peanuts," Peppermint Patty struggled greatly at school. In one cartoon, she cries, "I know the answer! The answer lies within the heart of all mankind!"
There is a pause as the reader moves to the next panel.
"The answer is 12? I think I'm in the wrong building."
If you go down in a contract, especially one for 12 tricks that you should have made, you will probably wish you had chosen to visit a different building.
Let's see if you made a good choice to come to this bridge game when you reach six spades in this deal. After West leads the diamond king, what should you do?
North's bidding was optimistic, despite the known nine-card-or-better spade fit.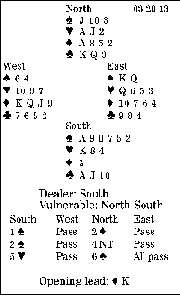 You have at least one spade loser and a potential loser in hearts. You must get lucky in spades, and it looks as though you also need the heart finesse to win. However, a quick peek at the diagram shows that it is losing. There is a solution, which is hard to spot if you have not seen the theme before.
The best play is to ruff a diamond in your hand at trick two. Then cash the spade ace, play a club to the queen, ruff another diamond, return to dummy with a club, trump the last diamond, and cash the club ace. With the minors eliminated, exit with a trump.
Here, East wins and must play a heart away from the queen. But if East had the last club, you would ruff and still have the heart finesse available.