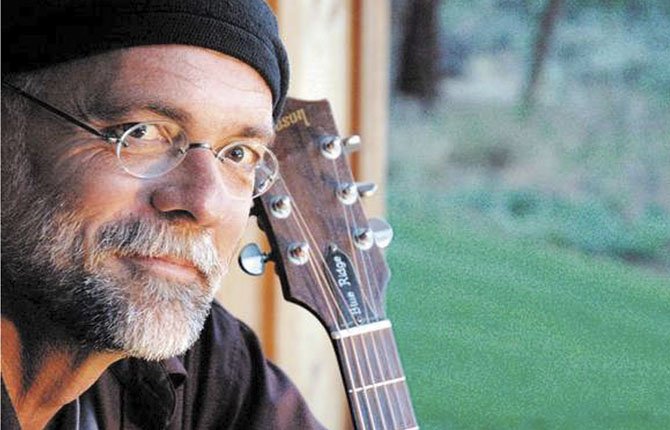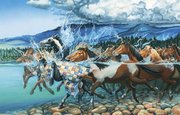 The Dalles — Winnie the Pooh may have lived in the Hundred Acre Wood and Peter Pan was from Neverland, but the heroine of the children's book "Dream Again" had her adventures someplace a little more familiar: The Dalles.
The heroine's name is Annie, a spunky 18-year-old orphan looking for a fresh start at the end of the Oregon Trail. When her beloved family quilt gets washed away in the Deschutes River crossing, she leaves her wagon train to search for it and ends up in nineteenth-century The Dalles.
"There are some illustrations of how I imagined it to be, and there is even a scene where she is spying on the Indians as they are fishing at Celilo Falls," said author and illustrator Dennis McGregor.
It is fitting that the storyline revolves around a quilt because it was a poster for a quilt show that inspired the book. McGregor, a painter, created original artwork for years for the posters for the annual Outdoor Quilt Show in Sisters. The most popular poster he e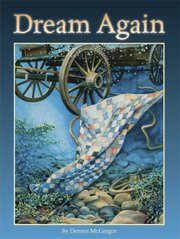 ver made featured a group of wagons with patchwork quilt covers.
Eventually he decided to do another painting of wagons and quilts and the result — a quilt drifting under water as it gets washed out of a wagon — inspired more paintings of what might have happened to the quilt next.
"Once I did a few it became real easy to start imagining a story, something that could have really happened and could have happened right here in Oregon, between Bend and The Dalles," McGregor said.
There are 26 rich, colorful paintings of Annie's adventures in the book. McGregor said the illustrations drove the story, probably because he is an artist first and this is the first book he has written. But he worked hard to make sure the story was just as good as the illustrations, asking friends and family and even schoolchildren to give him feedback.
"I think it's a cop-out to say if it's a children's book it doesn't need to be written well," he said.
McGregor said writing a children's book is harder than it looks, and the most helpful editing suggestions were of things he could take out of his writing to make it more concise for his young audience.
"It's challenging," he said. "It's like writing a song. You have to say a lot with just a few words. It was harder than I thought it would be, but I am very pleased with how it turned out."
The book is on PDF but isn't published yet because McGregor is about $4,000 shy of what he needs to print 5,000 copies of the 52-page hardcover book. If the setting of his book is old-fashioned, the way he is raising money is not — he is using the crowdfunding website Kickstarter.com to fund the book.
The site allows users to post a video plea explaining their project and asking for funding. If enough money is pledged before the deadline the project goes through, but if the project misses its target no one's account is charged.
McGregor's book has a good chance of passing his $24,420 goal by the April 9 deadline. Since he posted a video and sample illustrations on Kickerstarter on March 1 he has raised $20,995 in pledges from 331 backers. Those who donate more than $25 are promised a signed copy of the book and there are other incentives listed for other amounts.
He said he will put any extra money raised into publishing a CD of songs he wrote to complement the book, one of which can be heard in the background of his Kickstarter campaign video.
If he does publish his book in the next few months McGregor said he would love to come and do a book-signing in The Dalles.