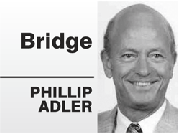 Robert Orben, who is primarily a comedy writer, said, "There are days when it takes all you've got just to keep up with the losers."
He was not thinking about bridge, but he could have been. When you are in a trump contract, you should start by counting your losers. Then, if there are not more than you can afford, you should draw trumps as quickly as possible. But if the loser count is too high, you must calculate how to reduce the number.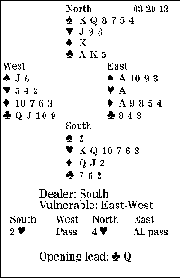 In this deal, how should South plan the play in four hearts? West leads the club queen.
After South opens two hearts, showing a decent six-card suit and 6 to 10 high-card points, some players would be unable to resist responding two spades. But when you know of a nine-card major-suit fit, why look elsewhere? Also, South's hand will probably be useful only with hearts as trumps. North's high cards will still be worth tricks in hearts.
South should see four losers: one in each suit. It will be impossible to avoid conceding tricks to the missing aces, so declarer must concentrate on that club loser.
Note that if South immediately plays a trump, he should go down, East winning with his ace and returning a club.
Declarer would like to establish his diamond suit, but he has no fast hand entry. Instead, he must lead dummy's spade king at trick two. East wins and plays a club, but South takes that on the board and cashes the spade queen, discarding his last club. Then he draws trumps as quickly as possible.