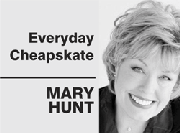 If the word budget is like nails on a chalkboard, you've got a friend in me. I know the feeling.
For many years, I wouldn't have anything to do with a budget because I couldn't stand the idea of someone telling me how to spend my money. To me, a budget was a whip disguised as a formula, with every intent of beating me into submission.
Instead, what I learned from coming back from the edge of financial doom and finding my way to solvency is that a budget is the ticket to financial happiness. I still don't like the word, so I've replaced it with Rule 5: Tell Your Money Where to Go, from my book "7 Money Rules for Life: How to Take Control of Your Financial Future."
Like a roadmap or blueprints for your dream house, a Spending Plan shows where you are and how to get where you want to be. In its simplest form, a Spending Plan is a sheet of paper on which you write your income for the coming month and what you will do with every dollar of it. You "prespend" your paycheck on paper before you part with any of it.
A good Spending Plan addresses every bit of income by giving every dollar a specific job to do. Some will be directed to pay the rent or mortgage, others will be directed to food and utilities.
A portion of your monthly income will fulfill Rule 2 — long-term savings — and some will go to work hard on Rule 3 — giving. Some of those dollars will bring balance to your life, as they are assigned to entertainment and fun, others you'll direct to places like retirement accounts and investments. A good Spending Plan becomes a great predictor and leaves a lot less to chance.
The purpose of a Spending Plan is not to force you into a life of deprivation but rather to prevent overspending, which will keep you from falling into debt. It rarely matters what you're overspending on — dining out, entertainment, clothes. In the end, it's all debt.
There is something startling about seeing your exact income and expenses for a full month laid out on paper. If you have not done something like this before, let me warn you: Rarely does a person's planned spending match actual spending. In fact, in the first few months, you may find your income and your recorded outgo to be from different planets! Do not despair. The more patience and diligence you expend, the clearer your financial picture becomes and the greater your reward.
Once you have it the way you want it, your Spending Plan becomes the roadmap that keeps your finances on track.
If you missed reading about the first four rules, Spend Less Than You Earn, Save for the Future, Give Some Away and Anticipate Irregular Expenses — visit my blog at www.EverydayCheapskate.com and click on "Mary's Perspective." We're talking about each of the seven rules over the next couple of months.