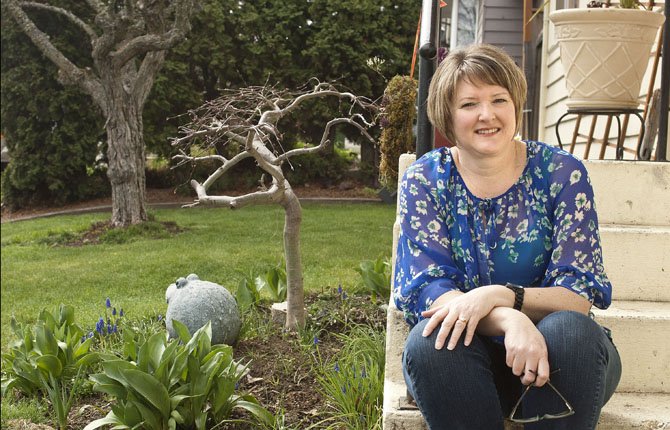 The Dalles — Teri Thalhofer is a six-year cancer survivor, but not many people know it.
That's because she didn't lose her hair, and she had a type of cancer that makes people squeamish.
Every year around the time of the Relay for Life, a June fundraiser for cancer research, people learn that Thalhofer, now 47, is a cancer survivor.
They assume she had breast cancer, because "that's the cancer I'm supposed to have as a woman," she said.
When she says she had colorectal cancer, people "are visibly uncomfortable" at the news.
But the reason she's still alive is because she did two things right: She paid attention to signs that something was amiss — namely, rectal bleeding — and she got a colonoscopy.
Colorectal cancer is highly treatable — with better than 90 percent five-year survival rates if caught early — yet it is the third leading cause of cancer death in the United States. That is at least partly due to the fact that a colonoscopy, the gold standard for detecting colorectal cancer, is an unpleasant prospect for many.
In the procedure itself, patients are sedated and a scope — a tiny camera — is sent up the rectum into the large intestine, or colon, so a surgeon can look for, and remove, polyps, or take tissue samples. The preparation for the procedure the evening before requires drinking a laxative that completely empties the intestine.
Now, as Thalhofer sees her friends approaching 50 —when they should begin getting colonoscopies to screen for cancer — and hears their open resistance to the thought of getting one, she feels it is time to speak out.
She was also motivated by the calendar, since March is colorectal cancer awareness month.
Six years ago last September, Thalhofer, a registered nurse who is director of the North Central Public Health District, noticed blood when she wiped after going to the bathroom.
She thought it might be a hemorrhoid like she'd had in pregnancy, so she mentioned it to her ob/gyn. She was only 41 at the time, too early for the standard colonoscopy
recommended at age 50. But because she'd had a polyp removed when she was just 5, her doctor recommended the colonoscopy just to be safe.
But Thalhofer put it off because her mom was diagnosed with terminal lung cancer the next month. But after a few months of seeing blood every time she wiped — not a lot, but very consistently — and then finally seeing it in her stool, she decided to take action. Plus, her insurance deductible year was coming to a close, so she scheduled a colonoscopy for the week before Christmas.
The results were startling: she had a mass in her rectum, which is the lowest part of the colon, just above the anus, and the surgeon sent samples of it to be tested. A week after Christmas, she was told it wasn't cancer.
But the mass still had to come out. Given her mom's illness, her surgeon said to schedule it at her convenience. But her mom insisted she get it dealt with, so Thalhofer went in late January for the procedure.
Her surgeon, Dr. Jeff Mathisen, removed 13 inches of her colon, including most of her rectum. Luckily for her, he was able to reconnect the ends, meaning she didn't have to live with a colostomy bag for the rest of her life.
She was in the hospital for six days. The day before she was to be discharged, Mathisen kept coming to check on her, just saying hi each time. Finally, the fourth time, Teri's husband Pete was with her. Mathisen then delivered more startling news: the center of the tumor he'd removed was cancerous.
But the surgery itself removed all the cancer and she didn't need chemotherapy or radiation.
Recovery was tough. Going to the bathroom was painful. She had to switch to a more bowel-friendly diet, which means more fiber and fruits and vegetables and less fatty junk food.
She also inexplicably developed an intolerance for shellfish.
As for elimination nowadays, Thalhofer said, "Things are different, but they're not intolerable. My bowel habits have changed somewhat. I have to manage it a little more closely through my diet. I have to be aware of how much fiber I take in to keep myself regular. If I don't pay attention I don't feel as good and everything gets kind of sluggish."
She had followup colonoscopies every six months for the first year, then yearly for five years. All have been clean.
"And now I get to go to every five years like a regular person," Thalhofer said. "But I paid attention to the signs my body gave me and I didn't put it off. That's the key message: You've got to listen to what your body's telling you."
Because Mathisen also had a son in the same grade at St. Mary's Academy as Thalhofer's son, it made the doctor-patient relationship unique.
"What I really loved about him was that he truly cared about how everything came across. He didn't tell me that I had cancer when I was in the room alone. He waited for Pete to be there. He was very conscious of the fact that I had a whole other issue going on [with my mom.]"
In fact, just days after she got out of the hospital, Thalhofer's mother died. Thalhofer was just getting ready to drive to see her when she got the call that she'd died.
Watching what her mother went through, Thalhofer knows that her own experience did not fit the "typical, really hideous cancer experience."
But because of that, she gets a sense from people — which is never stated outright — that she didn't have "a real cancer experience."
It's true she didn't have chemo or radiation, but that was because she caught it in time.
"It's not dramatic, but it's what everybody hopes for when they get the diagnosis," she said.
The nature of her cancer also makes her experience different. When she tells people what kind of cancer she had, "they don't want to talk about it, they avoid me. It's embarrassing. But it's one of those high-number killers. It kills a lot of people.
"It clearly makes people uncomfortable when I tell them, 'No, I have colorectal cancer.' But I think the discomfort with it is what makes people not get the colonoscopies they need."
She said the preparation for a colonoscopy "isn't fun, but it's better than dead."
She's talking about her cancer now, six years on, because "I don't think people are any more comfortable with it than they were six years ago and I think people avoid getting checked out … I hear more of my friends say they're not going to do it. And I want people to be aware that you need to pay attention and if you catch it in time, you can have a great outcome — it's not a death sentence."
Even with her great outcome, the specter of cancer is a part of her.
"I don't think anybody can hear, 'You have cancer,' and it not be a life-changing moment."
It put into perspective what was important to her, and she prioritizes time with her family.
It's also a constant thought "in the back of my head. It just kind of always feels like there's that threat hanging over there. Even though I know that six years out, my survival rates are great, once you hear it, it's always there with you."
"It's one of those defining things about me: I'm a mom, I'm a wife, I'm a nurse, I'm a daughter. I had cancer."