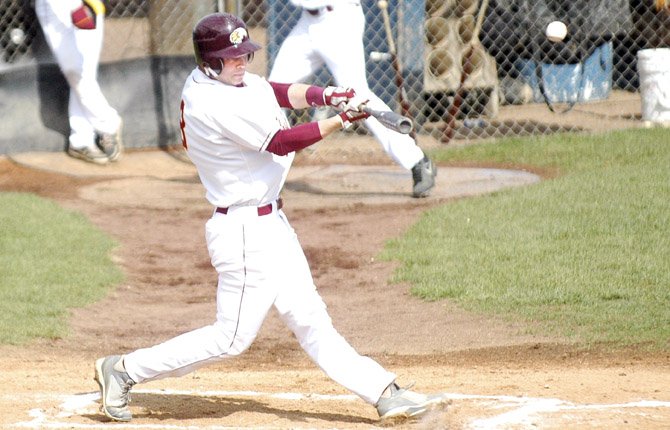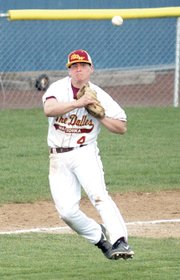 The Dalles — There is reason to believe The Dalles Wahtonka boys' golf team could be a group poised to take the Columbia River Conference by storm.
Mostly, the indication of such a cavalier statement can be pointed to the first two tournaments the Eagle Indians have competed in.
In their opening event this season, TDW wound up in eighth place with a team tally of 410, but on March 21 at Big River Golf Course in Hermiston, the group shaved 36 strokes off their totals for a 374.
Twenty-six year head coach Kent Smith is cautiously optimistic that the best is coming sooner rather than later.
"They are getting better and they want to get better. With these scores, it shows the practice time is helping," Smith said. "We still need to get our scores down a little more and I won't be satisfied until we get to that point. It will come down to our short game and putting. If we can improve on those, we can make a move."
In Hermiston, Nick Glesener showed a 10-stroke improvement and wound up four strokes from taking fifth place in the individual standings.
He carded a 45 on the front nine and capped play with a 44.
"Nick could be one of our best players if he continues to practice hard and with a purpose," Smith said. "He is talented and has some experience from last year."
The duo of Coby Conlee and Bailey Ortega showed the most improvement on the squad by knocking off 11 shots apiece to their numbers.
Conlee had a 46-50 for a 96 overall, while the freshman Ortega added a scorching opening front side of 42, and then finished his tournament run with a 52 to score a 94.
No. 1 golfer Dakota Green maintained his consistency on the scorecards with his second consecutive 95 score.

He started out his run with a 46 and stroked a 49 on the back nine for his numbers.
"Dakota is another greatly improved player from last year," Smith said. "He has made some changes in his swing and is improving. He put in extra work and wants to keep getting better this season."
In the No. 5 slot, senior teammates Dylan Fitzgerald and Bobby MacLeod will switch off from time to time based on head-to-head matches.
After taking a tournament off, senior Dylan Fitzgerald jotted down a 113 in his first varsity event and MacLeod had a 116, so that tandem is closely matched in talent.
That group is looking to keep the positive trend of the program going.
Two years ago, Connor Batty secured a state slot and last season, Greg Glesener punched a state ticket.
Before that, Damian Telles was picking up headlines for his standout play for the program.
Within this squad, Smith sees a few athletes who have a legitimate shot to keep the streak going.
"We're very excited about the season," Smith added. "We have some good talent at the top and our depth is pretty good with young, talented golfers. We're optimistic."

For the first time in a while, the Eagle Indians feel like they have enough depth to challenge each week.
In tempering his enthusiasm, Smith said he uses a lot of patience in working with this young team, hoping that a positive coaching approach breeds success.
"We still have a lot of work to do. It is hard especially with the inexperienced players because you don't know what to expect," Smith said. "A lot of it depends on how they handle the pressures of playing against some other teams in tournaments on courses they have never played on before. It will take some timer."
Smith has gone back to basics with his team in hoping they can maintain this edge.
Some areas that will get some extra time include the short game, putting, consistent drives and some keen troubleshooting tactics to help work out game situations.
It is tough as well because many of the golfers stash away their bags after the season, and then dust them off at the start of February.
Even so, it does not delay the teaching moments.
"Our biggest problem right now is course management. We don't take the shots we need to take," Smith said. "The kids think the harder they swing, the further the ball travels. If we rush too much, bad things are going to happen. In competition, they tend to try to do too much. We just need to get back to basics."
The rest of the CRC will be a tough nut to crack overall.
Hermiston is 1 for 2 in two recent tournaments with a second place outcome at The Dalles Invitational on March 15.
Among that top level, Zach Evans figure to be the big gunner on a team that has averaged 345 in two tournaments.
Pendleton is also in the conversation as well with Walker Hoolehan and Reilly Hagerty on the roster. In Hermiston, the Buckaroos finished in second place behind Hermiston with a 353.
The goal is to get TDW within those 340-350 totals to get a team state berth.
"If they can get a couple of strokes off their score, they have a shot," Smith said. "Anything is possible, and that is what makes this season so unpredictable. It really depends on what team shows up and performs at their best under pressure situations. We have great hopes that they are going to get the job done."
TDW is at the Wildhorse Invitational in Pendleton at 10 a.m. on Monday, April 1.
After that, the Eagle Indians have two weeks off, before hitting the links again in Bend for a tournament at 10 a.m. on March 15.