SOUTHEAST ZONE VIEWING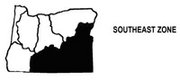 Harney County
EVENT
The 32nd Annual John Scharff Migratory Bird Festival, April 11-14 2013, Burns
Spend an amazing weekend witnessing the spectacular spring migration in the Harney Basin of Southeast Oregon. View thousands of migratory birds as they rest and feed in the wide open spaces of Oregon's high desert. From waterfowl to shorebirds, cranes to raptors, wading birds to songbirds, you'll see it all! 

The festival offers non-stop birding activities as well as historical and cultural information sure to entertain you and your family. So whether you're a beginner or a life-long wildlife enthusiast, the festival has something for everyone. More information can be found online at www.migratorybirdfestival.com
Spring migration is well underway and large numbers of snow geese, ross's geese, and sandhill cranes can be found in agricultural fields throughout the Harney Basin. Pintail, shoveler, wigeon, goldeneye, mallard, green-winged teal and cinnamon teal can also be found throughout the basin.

Shorebird migration is just beginning and should improve over the next few weeks as spring migration progresses. Lesser yellow legs and killdeer are some species that have already arrived.

Raptors continue to be found throughout the area. You should be able to view golden eagles, bald eagles and a variety of hawks perching on telephone poles and fence posts throughout the district. Resident raptors such as northern harriers and red-tailed hawks are very easily observed in open agricultural areas along with rough-legged hawks and an occasional ferruginous.

Sage grouse are just starting to attend leks. Binoculars or spotting scopes are needed to observe sage grouse as getting close to the leks will flush the birds.
Viewing opportunities around Burns/Hines and at Malheur National Wildlife Refuge will continue to improve as migration continues to develop and more species of passerines and breeding water birds arrive in the area.
Many of the bighorn sheep will be using lower elevation slopes and can often be seen from the highways.  Bighorn sheep may be seen from highway 205 along Catlow Valley or along the East Steens Road.
KLAMATH COUNTY
Klamath Falls Area
Spring migration is in full swing with new arrivals every day including American white pelicans, killdeer and several swallow species.
Thousands of spring migrant geese including greater white-fronted geese, lesser snow geese and Ross's geese can be observed from just south of Klamath Falls down to stateline road. These birds will stage in the Klamath Basin until late April as the birds return to Arctic nesting areas.
Greater sandhill cranes are returning from southern wintering areas and can be found foraging in agricultural lands in the basin.
Yellow-bellied marmots are beginning to emerge from their winter dens as the days become longer and warmer. Look to rock piles and rocky bluffs to find these large, ground dwelling creatures.
For those with a keen eye for migrating songbirds, the Klamath Basin is within the migratory paths of thousands of neotropical migrants and other passerines at this time of year as they journey to nesting areas from here to the arctic north. Binoculars will help greatly in spotting these tiny migrants as they pass through. Many passerine migrants are also identifiable by song for those who listen.
Excellent viewing opportunities exist as close as downtown Klamath Falls at Veteran's Park. Be sure to check for bald eagles using the perch snag along Lake Ewuana. Another close viewing opportunity is the Link River Trail where viewers will see many species of passerines as well as a few mammals including deer, gray fox and mink. 3/26/13.
Klamath Wildlife Area
Public use is restricted to the public roads and parking lots from Feb. 1 to April 30 to minimize disturbance to migrating wildlife.
Effective Jan.1, 2013, a Wildlife Area Parking Permit is required to park on the Wildlife Area. Cost is $7 daily or $22 annually. Free with purchase of hunting license. Buy online or at an ODFW office that sells licenses or at a license sales agent. Learn more.
Waterfowl
Snow geese, Ross's geese and white-front geese are in abundant numbers grazing in pastures and loafing on the ice. Great Basin Canada geese are beginning to pair and develop territories. The Klamath River near the boat ramp has melted and large numbers of diving ducks can be seen. Bufflehead, ring-necked ducks, and ruddy ducks are becoming more common. Tundra swans may be seen loafing in many of the open water areas on the Miller Island Unit.
Upland birds
Sandhill cranes have returned to the basin. They can be seen foraging in the open fields.
Klamath Basin waterfowl numbers are available on the US Fish and Wildlife website at http://www.fws.gov/klamathbasinrefuges/cenfindex.html

Running and training of dogs is allowed only in the Dog Training Area by the boat ramp on Klamath River until August 1, 2013.

Overnight camping is not allowed on the Miller Island Unit. Discharge of firearms is prohibited except by permit. If you have any questions, please contact Klamath Wildlife Area at (541) 883-5734 or lanny.a.fujishin@state.or.us. 2/19/13.
LAKE COUNTY
Spring migration continues and flocks of Lesser Sandhill Cranes, Snow Geese and White-fronted Geese are present in all the major valleys. Ducks of various species are abundant and shorebird numbers will steadily increase through April. Bald eagle numbers will increase with the waterfowl migration. Due to the amount of precipitation received to date, access will be very limited on all but the paved and all-weather gravel roads.
Mild weather has resulted in a spring green-up of annual grasses along Abert Rim. Bighorn sheep on the Abert Rim have moved to the lower south-facing slopes and are easily visible from US Highway 395. 3/19/13
SUMMER LAKE WILDLIFE AREA
This section was updated on March 25, 2013
Summer Lake Wildlife Area requires a $7 daily parking permit or a $22 annual parking permit. Parking permits can be purchased at any ODFW license agent or through the ODFW website. Locally, parking permits can be purchased at the Summer Lake Store, 1.3 miles north of Headquarters.
Vehicle access to the Wildlife Viewing Loop is now open. The Wildlife Viewing Loop will remain open until early fall.
Major dike roads (Bullgate, Gold and Windbreak dikes and the Work Road) are closed to motor vehicles, other forms of non-motorized access are allowed.
All secondary roads and dikes continue to remain closed and cross-country travel is prohibited. Non-motorized travel is permitted.
Northward migrating waterfowl continue to stage in fair numbers, although some species are beginning to depart. Several thousand lesser snow and white-fronted geese, American wigeon, northern pintail and canvasback have arrived. Arctic nesting geese and tundra swans are beginning to move out of the area enroute to more northerly staging areas.
Waterfowl
Northward migrants continue to arrive and some species continue to increase in number, while others are beginning to decline. The last weekly waterbird count conducted on March 21 found about 19,400 ducks (15 species), over 18,000 geese (Canadas, white-fronted and snow) and less than 350 swans (trumpeter and tundra). Numbers of some species (lesser snow geese and tundra swans) have declined since the count and will continue to do so as they move on towards other northerly staging areas.

Waterfowl are widely scattered across the wildlife area's wetlands at this time.

Ducks are taking advantage of newly flooded area of the recently completed Between The Dikes Habitat Management Unit (HMU) restoration project. They are actively foraging in the shallow flooded areas; over half of the total counted was found there or in the adjacent Gold Dike Impoundment HMU.

Cinnamon teal numbers are slowly increasing and they are spreading out into breeding territories. Blue-winged teal should be encountered soon.
Many mallards have formed pairs and are dispersing to breeding territories and early nesting efforts should be underway at this time.
Eurasian wigeon can usually be found by carefully scanning flocks of Am. wigeon.
Evenings are excellent times to observe snow geese from the Wildlife Viewing Loop, especially in the Gold Dike Impoundment, River Ranch and Work Road areas. Snow geese spend a majority of the day roosting on large ponds or Summer Lake proper and move into emergent marsh areas to feed during the evening and night.
Greater white-fronted geese are fairly numerous at this time over 1,100 were observed during the weekly count. Most of these are the larger, darker "Tule" subspecies that nests in the Upper Cook Inlet of Alaska.
Canada goose nesting is underway, pairs and attending ganders are scattered across the entire wildlife area. A few Canada geese are on nests now, and viewers are urged to minimize disturbance and move away quickly if birds are flushed.
Swans are dispersed in open water areas, predominantly in the Rest Lake Refuge, Gold Dike Impoundment, River Ranch and the head of Summer Lake at this time. About 25 non-breeding trumpeters along with a few winter migrants can be found scattered across the wildlife area. All of the restoration birds will be neck-banded with green collars and white alphanumeric symbols. Viewers are encouraged to "read" the collars and report them to wildlife area personnel. Collars will have the Greek letter Theta (Ѳ) and two side-ways laying numerals that are read from the body toward the head.
Shorebirds, waders and other waterbirds
Very few shorebirds can be found. Killdeer and greater yellowlegs are increasing in number. A few dunlin and long-billed dowitchers were observed over the past week.

American coot numbers remain good and are found in open water areas across the entire wildlife area; over 900 were found on the weekly count.

Sandhill crane numbers continue to increase as nesting pairs return to traditional territories, over 20 pairs were observed during the weekly count. Non-breeders and migrants continue to stage especially in the Foster Place and along the north shore of Summer Lake. Cranes are very vocal now, proclaiming territories to adjacent pairs especially during early morning and evening hours.
Very few grebes are present, but western, eared, and pied-billed can still be found.
A few American bittern, the occasional black-crowned night-heron and a few great blue herons are still present in very low numbers and are widely scattered across the entire wildlife area. American white pelicans made their first of spring appearance last week.
Raptors and Others
Resident and migrant raptors, especially red-tailed hawks are scattered throughout the Wildlife Area as well as on private lands along Hwy 31.
Rough-legged hawks are still present in low numbers; most have begun to migrate back to arctic breeding areas.
Northern harriers are commonly observed over marsh and hay meadows.
Bald and golden eagle numbers remain fairly high. Feeding and roosting flocks of waterfowl are closely attended by eagles, looking for debilitated or sick individuals.
Prairie falcons are fairly common residents of the area and are frequently seen during this time of the year. Rough-legged hawk numbers are declining at this time, but a few individuals can still be found.
Migrant accipiters continue to be observed, primarily at Headquarters. Spring migrants will be moving through the area soon.
Great horned owl and the occasional common-barn and short-eared owl can be found scattered across the entire wildlife area, especially in the trees at campgrounds. Great horned owls remain very vocal at night and nesting is underway. The pair at River Ranch Barn is nesting in the nearby machine shed and incubation is underway.
Of interest was the observation of a barred owl at Headquarters last week.
Upland game birds
California quail and ring-necked pheasants are widely scattered across the north end of the wildlife area. The feeder at Headquarters allows for excellent viewing of California quail.
Passerines
Spring migrants are beginning to appear, tree swallows continue to increase in number, and other species should be arriving soon.
Eurasian collared doves remain very numerous at Headquarters Complex, over 25 are present. American and lesser goldfinches and several species of sparrows are fairly numerous at Headquarters/old homesteads and other tree and shrub sites. Occasionally, evening grosbeaks and cedar waxwings can be found.

Red-wing blackbirds are increasing in number and are now found widely scattered across wetland areas. They are becoming very vocal, especially during sunny days. Yellow-headed blackbirds should be making their spring appearance soon.
European starlings are active in searching out nesting cavities.
Facilities and Access
As of Jan. 1, 2012, Summer Lake Wildlife Area requires a $7 daily parking permit or a $22 annual parking permit. Parking permits can be purchased at any Point of Sale Agent or through the ODFW website. Please remember: New 2013 parking permits are now required!
Locally, parking permits can be purchased at the Summer Lake Store, 1.3 miles north of Headquarters.
The Wildlife Viewing Loop is open and provides excellent opportunities for wildlife viewing and photography. It will remain open until early fall. The major dike roads (Bullgate, Windbreak and Work Road) are now closed to motor vehicle traffic. Non-motorized travel is allowed.
All secondary roads and dikes continue to remain closed and cross-country travel is prohibited. Non-motorized travel is permitted.
Camping is permitted at four sites on the Wildlife Area. Campgrounds are primitive but each has vault toilets, trash barrels and a few picnic tables.
Habitat
Nearly all wetland units are well flooded at this time. Bullgate Refuge is being drawdown and will be held dry in preparation for wetland restoration later this summer. Receding water levels and areas exposed by controlled burning will provide increased foraging opportunities to a wide variety of wildlife.

Emergent wetland vegetation is mostly lodged over allowing for good viewing conditions.
Upland habitat remains in excellent condition with considerable residual vegetation that is providing high quality food and cover for many wildlife species. Green-up of early growing forbs and grasses is beginning to occur.
Planted tree and shrub plots are providing excellent sheltered sites for many wildlife species and some are plants are beginning to leaf-out.
Please contact Summer Lake Wildlife Area at (541) 943-3152 or e-mail martin.j.stlouis@state.or.us for additional information.