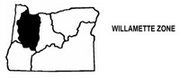 WILLAMETTE ZONE VIEWING
VALLEYWIDE
The Osprey Returns
Each spring, osprey make their return to Oregon in preparation for the breeding season. Ospreys were first documented in Oregon in 1855 and historically were very numerous. In the 1970s, they experienced drastic declines as a side effect of widespread pesticide use. With environmental regulations that banned these chemical and the Federal Migratory Bird Treaty Act that offers protection to all native migratory birds, including osprey, ospreys have made a remarkable comeback.
Osprey can be seen throughout the Willamette Valley, nesting on the very top of dead/dying trees, cell phone towers, power poles, river pilings, and even on abandoned human structures such as cranes. Enjoy watching the osprey, but be careful not to disturb them during their critical nesting time (March – August).
Leave baby owls where you find them
Don't be surprised if you see a baby owl on the ground this spring.  Owls are one of earliest nesting birds in the Willamette Valley and this is the time of the year when they  are leaving the nest. 
It is a natural occurrence for young owls to spend much of their time on the ground being fed by their parents. Please do not interfere.  If you come across a baby owl on the ground, assume its parents are in the vicinity and are feeding it.  This is a normal stage of development.  Leave the area quietly and do not disturb the young owl. When in doubt,  call your local ODFW office for assistance. 
Remember, nothing can quite take the place parental owls in feeding and raising young owls—help keep wildlife wild! 
Corvallis Area
EE Wilson Wildlife Area
Wildlife viewing is good with waterfowl, shorebirds and neotropical migrants beginning to arrive. Deciduous trees do not have leaves allowing better viewing. Note: dogs are required to be on a leash inside the wildlife area boundary.
Starting April 1, people can use the photography blind on the Wildlife Area.  Staff will feed daily so there will be good photo opportunities for  waterfowl including mallards, wood duck, hooded merganser, ring-necked duck, western Canada goose. Broods are common. Snipe and other shorebirds are periodically seen. Call the office to make a reservation, (541) 745-5334.
Find directions to EE Wilson Wildlife Area.
Sauvie Island
Sauvie Island Wildlife Area
NEW: Migratory sandhill cranes are arriving in great numbers. The wood ducks are back and the great blue heron rookery is now visible from the Walton beach parking lot.  Herons generally nest (roost) in colonies in large trees. The first osprey was spotted this weekend. Also an albino cackler goose was seen from the Walton Beach parking lot. The hummingbirds have arrived.
Bald eagles and red-tailed hawks are very active on their nests in anticipation of their new arrivals. There are approximately 10 active eagle nests on the Wildlife
Area. The great horned owls have chicks now.
Viewing areas currently open to the public are Coon Point, the Eastside Viewing Platform and Rentenaar Road. The wildlife area is scheduled to open on April 16, 2008.
A parking permit is required for the Sauvie Island Wildlife Area and can be purchased at ODFW license agents. Find directions to Sauvie Island Wildlife Area on the ODFW Web site.
Portland Area
Return of Eulachon Smelt
A strong run of eulachon smelt is returning to the Columbia River and its tributaries this year. These small ocean-going fish are an important link in the food chain and were once so abundant they were caught by the bucket load with dip nets in the Columbia River basin. Eulachon smelt have been listed for protection under the federal Endangered Species Act since 2010 and fishing seasons for them have been closed. However, their return can be an impressive sight in small rivers like the Sandy. 3/26/13.