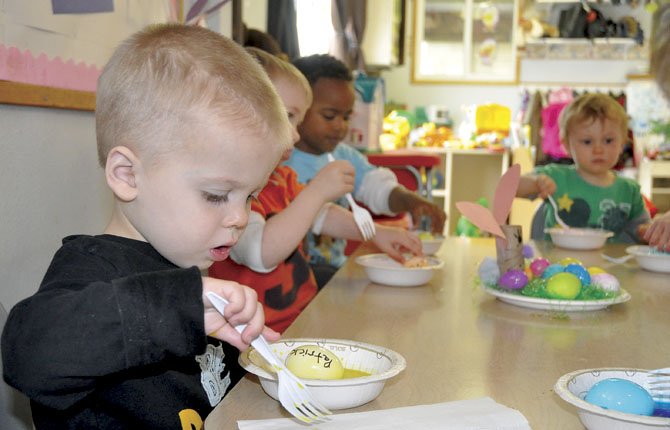 The Dalles — Thanksgiving is all about the turkey, Valentine's Day brings chocolate, and cookies for Santa are a must at Christmas, but everyone knows it just wouldn't be Easter without eggs.
Eating the eggs, however, seems to be an afterthought. Easter eggs are for dyeing, decorating with wax, rolling on the White House lawn with a spoon, hiding them and hunting for them.
Sometimes they are also for asking, "What is that smell?"
Aiden Wagner said her family is one that has a story of someone hiding an egg so well it wasn't found until days later. Her younger sister cracked an egg open as she shoved it inside a giant LEGO, and then put it back together with other blocks.
"It took us a while to figure out what that smell was," she said. "And when we did find it we had to throw the LEGOs away because we couldn't wash the smell out."
She said her family preferred to hide their eggs at their house — kids could be "pretty mean" at public Easter egg hunts.
"I remember once I set my basket down to pick up an egg and some other kids ran up, stole my eggs and kept going," she said. "That kind of turned me off to public hunts."
Wagner remembers her family discovering an alternative to the traditional PAAS dye tablets. They went to an event at the library and learned how to make pysanky (pronounced zonky), or Ukrainian Easter eggs. The eggs are decorated by melting wax in special metal cones, using them to draw patterns on the eggs, dipping the eggs in dye, then adding more layers of wax and dye.
"When we finished with the wax they looked pretty ugly … Then, like magic, we held them up to the candles and melted the wax off and rubbed them clean and they were beautiful!" she said.
Her mother bought a pysanky kit and it became a family tradition.
The level of intricacy in the Easter egg decorating often depends on the age of the kids doing the decorating. Stephanie Black, whose oldest child is close to five, said her family does color and hide Easter eggs, but for now the decorations generally consist of mostly scribbles "and sometimes stickers."
"She [the oldest daughter] can write her letters but it's hard to write on an egg," Black said.
She and her husband hide the eggs outside for their three children, weather permitting, but they haven't lost any yet.
"Right now we don't make it too hard," she said.
Amber Thomas said she and her husband haven't decorated eggs with their daughter yet this year but she wants to try out a new decorating method.
"I saw a really cool idea on Facebook where you put food coloring in shaving cream and swirl the eggs in it, and you get this really cool marble pattern," she said.
Thomas said the Easter bunny hides the eggs every year before her daughter wakes up, just like she remembers from when she was little.
"I caught the Easter bunny dropping off my Easter basket in my room when I was seven," she said.
Many countries have Easter egg traditions besides decorating and hiding them. According to Wikipedia, in Great Britain children roll eggs down steep hills. The egg dance, which involves putting Easter eggs on the floor and trying to dance among them without breaking any, originated in Germany. Egg tapping contests, in which players hit their eggs together until the loser's breaks, are popular in several European countries.