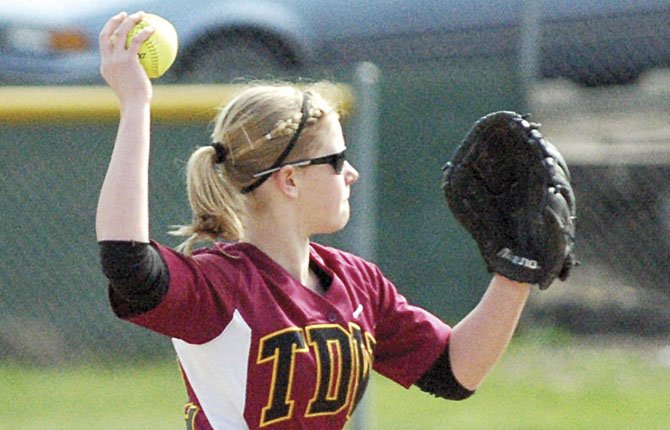 With every win, The Dalles Wahtonka is climbing up the rankings ladder.
Friday, it was a fast offensive start followed by stout pitching that gave the No. 7-ranked Eagle Indians a 6-1 win over Hillsboro in a one-game tournament matchup in Hermiston.
TDW scored three runs in the opening frame and added single runs in the fourth, fifth and seventh innings.
"I was really pleased with the girls' discipline at the plate," said TDW head coach Steve Garrett. "They took a lot of pitches that were close or up in the zone and they did not go after bad pitches. It got us a lot of runners on base and we were able to get them in."
In the first frame, Carley Gowdy led off with a walk, and then Kella DeHart roped a single to center to put runners on the corners.
With Katherine Kramer at the dish, DeHart swiped second base.
Kramer ended up flying out for the first out, but then Melanie Taphouse followed with a walk to load the bases for the white-hot Katie Helyer.
The senior shortstop kept up to her hot hitting ways and hit a bullet, a two-run single, to plate both Gowdy and DeHart.
TDW would then add another run on an error, but left some runners stranded or else the lead could have been bigger than 3-0.
"That was a big first inning," Garrett said. "It gave us a little boost to start off."
The Eagle Indian pitching trio of Morgan Triperinas, Gowdy and Taphouse surrendered just three hits and walked three, but struck out eight.
Triperinas tossed three innings to pick up the win. Gowdy added two frames of hitless ball to get the hold.
Gowdy did a high-wire act in her first inning in the circle at the start of the fourth, as she walked the first two batters she faced.
The senior settled down, and ended up getting the batter out on a force play at third, then got a strikeout, before getting out the soup with an inning-ending groundout.
Taphouse faced six batters in her two innings, punched out four batters, and issued two groundouts.
Garrett said this trio would join forces more often in games to provide a different look to opposing offenses.
Having Taphouse's senior leadership, craftiness and full health is especially welcomed.
"Having Tap come up big for us today is a real bonus," Garrett said. "That was exciting to see her come around. She looked great. I really like that Tap is back with us and ready to fill in on some spots for a couple of innings.
I think it takes a little bit of pressure off Carley and Triperinas."
In the batter's box, Helyer went 2 for 3 with two singles and two RBIs. Kramer added two hits, including a triple and she scored twice.
Both Morgan Goslin and Taphouse had one hit each and drove in a run.
Garrett complimented the timely hits of Helyer, Goslin and freshman Lori Cimmiyotti.
Cimmiyotti's hit was one of two extra base hits, an RBI double.
"That was a good one there," Garrett said of Cimmiyotti. "I would like to see her come around. She can be a big weapon for us."
TDW (7-3 overall) has three consecutive road games to end its tough non-league schedule.
At 5 p.m. Tuesday, the Tribe takes on Lakeridge.