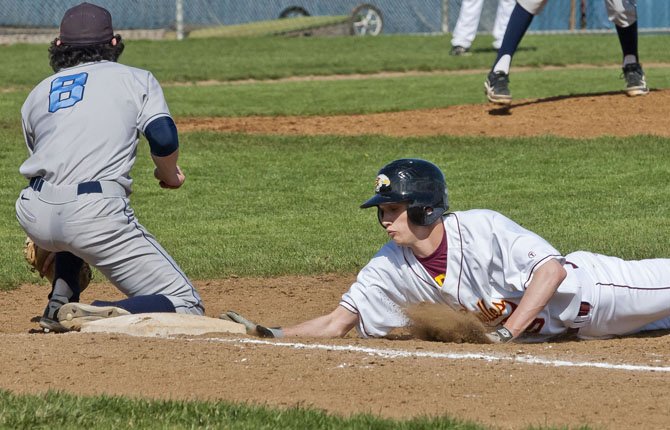 The Dalles — The Dalles Wahtonka did not hit the ball all over the park for another lopsided win, but rather manufactured enough runs to support pitchers Dakota Walker and Steven Bartells in a 5-1 baseball victory Friday over Corvallis at Quinton Street Ballpark.
In all, the Eagle Indians racked up seven hits, laid down three sacrifice bunts, hit an RBI sacrifice fly. Three of the runs came in on two-out hits.
Corvallis pitcher Dylan Miller struck out four and walked three in his complete-game effort.
TDW senior Connor Mathisen liked the challenge Miller posed to the Eagle Indian offense.
"We saw great pitching today. We haven't really seen great pitching yet this season," Mathisen said. "We took advantage of some situations to get all of the runs we could. When they made errors, we followed that up with hits and stolen bases and kept it moving."
With the score knotted at 1-apiece with two down in the bottom of the third inning, Mathisen walked to put runners on the corners for Nolan McCall.
On a 1-0 pitch, McCall blooped a single to short right to bring in Kaci Kiser and move TDW in front by a 2-1 margin.
Staked to the one-run cushion, the Eagle Indians put two runs on the board in the fifth frame.
Kiser was at third base, Steven Bartells, who singled, was at second base and Mathisen worked a full-count walk to load the bags for McCall.
The third baseman drove in Kiser with a sacrifice fly to run the count up to 3-1 with two outs.
Up next was Clay Copper and he stroked a 1-1 fastball to left centerfield for an RBI double to make it 4-1.
TDW connected at a 4 for 9 split with runners in scoring position.
"I thought it was a well pitched game by both teams, but at least one of the differences was The Dalles Wahtonka did a great job of being aggressive at the plate, which is what they do," said Corvallis head coach Eric Dazey. "They gave themselves chances to get some hits, put some balls in play and build on what ended up being key runs."
Walker continued his solid pitching with six innings of three-hit ball. The senior right-hander struck out three and walked two.
In a three-inning span, from the third to the fifth, Walker retired 7 of 8 Corvallis batters.
The Tribe held firm on a 4-1 lead in the sixth, but then Walker faced a threat.
He threw eight-straight balls for consecutive walks to put a pair of runners on for Derick Porter.
Porter laid down a sacrifice bunt to put runners on second and third base for Justin Rouleau.
Rouleau flew out to left for the second out and then Kane Markley bounced into a fielder's choice to third base, as McCall tagged out Spartan runner Nathan Reynolds to retire the side.
In the bottom of the sixth inning, Kevin Henderson capped the scoring with an RBI single to center scoring Austin Wilson.
Up by four runs in the top of the seventh, TDW coach J.R. Runyon penciled in Bartells for the finish.
Bartells used 12 pitches and got a groundout followed by back-to-back strikeouts to end the game.
"They played the game for seven innings. They played some solid baseball today," Runyon said. "Our defense has been outstanding for us lately. They made it easier for our pitchers. Dakota did another great job for us and Bartells came in to close it. Guys are just doing what they are supposed to do in order to get the 'W.'"
McCall led the offense by going 2 for 2 with a double and three RBIs. Kiser scored two runs, Sugg and Bartells scored once each and both Copper and Henderson posted RBIs.
Of course, the seven-game winning streak is nice, but Sugg warned that there are no trophies given out in March.
"It feels good to get this win. We can't get too happy though," Sugg said. "Our goal is to take it one game at a time. We have to come ready to play every day."
TDW is now ranked 16th in the state and moving up.
Their home record is now an impressive 8-1, but this stretch of three road games next week against Centennial, Southridge and Lakeridge will be a test.
In their only road contest this season, the Eagle Indians managed two hits and suffered an opening-day 4-0 loss to Marist.
Including last season, TDW has gone 1-5 in its last six road matchups.
"We just have to jump on teams early when we play on the road," Sugg added. "If we can get a jump on them in the first inning, we can get them down in the dirt and they will not be ready to play us for the rest of the game. I have a feeling we can do just as well. This team is mature enough and we are ready. When we get down there, I believe we will turn it on."
At 4:30 p.m. Monday, TDW (8-2 overall) faces 6A Centennial in Gresham.
Tuesday, the Tribe hits the road to Beaverton for a 4:30 p.m. tilt versus 6A Southridge.