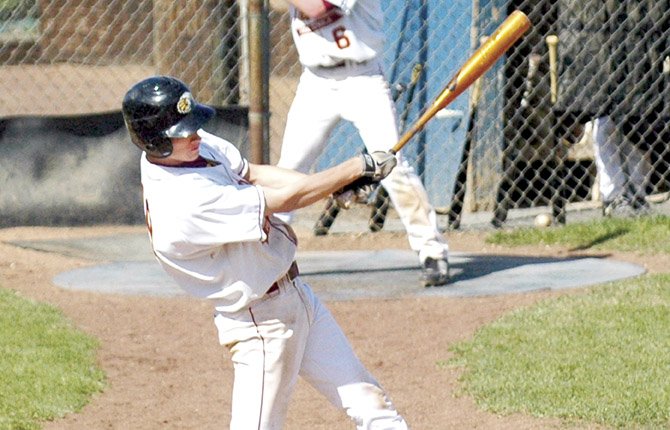 Tuesday's TDW Box
TDW 6, Hood River 2
TDW 013 020 0 — 6 10 0
HRV 010 100 0 — 2 7 0
Austin Wilson and Clay Copper. Connor Olson, Ryan Ward (6) and Kyle Beam. W: Wilson. L: Olson. SO/BB: Wilson 2/1; Olson 4/2 (HBP); Ward 1/2.
---
OFFENSE: HR: Nick Weekly (HRV). 3B: Beam (HRV). 2B: Nolan McCall 2 (TDW), Copper 2 (TDW).
TDW: Justin Sugg 0-3 sacrifice bunt; McCall 2-4 2 runs, RBI; Kaci Kiser 0-2 run, 2 walks; Copper 3-4 run, 3 RBIs; Zach Cantrell 0-4; Steven Bartells 1-2 RBI, HBP, sacrifice bunt; Connor Mathisen 1-2 2 runs, 2 walks; Kevin Henderson 1-4 RBI, fielder's choice; Wilson 2-3. -- LOB: 8.
HRV: Alix Jimenez 1-3; Kellan Duffy 1-3 GIDP; Beam 1-3 run; Weekly 1-3 2 RBIs run, sacrifice fly; Colesar 1-2; Olson 0-1; Luke Kopecky 0-2 walk; Kam Walker 1-3; Jacob Quintanilla 1-3 fielder's choice; Skyler Hunter 0-2 GIDP -- LOB: 2.
5A CRC Standings
Baseball
Team Overall Lg.
TDW 17-5 8-1
Hermiston 12-6 5-4
HRV 10-12 3-6
Pendleton 10-12 2-7
Saturday, April 27 Results
Hermiston 12, 15 - Pendleton 0, 5
TDW 2, 12 - Hood River 0, 11
Tuesday, April 30 Results
TDW 6, Hood River 2
Hermiston 7, Pendleton 5
---
Softball
Team Overall Lg.
Pendleton 19-4 8-1
Hermiston 12-11 5-4
HRV 13-7 3-6
TDW 11-11 2-7
Saturday, April 27 Results
Pendleton 2, 15 - Hermiston 0, 6
Hood River 3, 1 - TDW 0, 4
Tuesday, April 30 Results
Pendleton 2, Hermiston 1
Hood River 5, TDW 0
Never play cards with J.R. Runyon.
For some reason, The Dalles Wahtonka baseball coach always seems to have an ace up his sleeve.
With Connor Mathisen, Steven Bartells and Dakota Walker getting all the publicity for their pitching exploits, a new arm emerged as a force to be reckoned with – Austin Wilson.
The southpaw tossed a complete-game, seven-hitter and struck out two batters and No. 3-ranked TDW posted another double-digit hit effort in a 6-2 victory Tuesday night in Columbia River Conference baseball action in Hood River.
Not only was the crafty hurler able to work in rhythm with catcher Clay Copper to keep the Eagle hitters on their heels – retiring them in order twice and shutting down the final five batters he faced – he had some sterling defensive plays by his mates in the field with no errors and a pair of double plays.
"Wilson had an outstanding performance on the mound for us today," said Coach Runyon. "He was able to locate well and keep hitters off balance all day."
With the win, TDW locked in at the very least a tie for league title status, but could secure an outright crown with a win Friday on the road against the streaking Bulldogs.
The Tribe got things going in the second inning with a run on two hits.
Nolan McCall (.392 batting average) stroked a leadoff double, and then Bartells (.365) chased him home with an RBI single to make it 1-0.
Hood River's Nick Weekly evened the score at 1-apiee with a solo home run in the home half of the second, but TDW opened the floodgates with a three-spot in the third frame.
With one out, Kaci Kiser (.419) led off with a walk.
One out later, Mathisen (.391) roped a single and McCall followed with an RBI double to score Kiser and give the Tribe a 2-1 lead.
Still with two outs, Copper (.313) faced a 1-2 count against Hood River pitcher Connor Olson and the Eagle Indian catcher blasted a two-run double to increase the T-Dub advantage to 4-1.
Hood River inched closer in the fourth on a triple by Kyle Beam and a sacrifice fly by Weekly.
Not to be outdone, the Eagle Indians answered that run with two of their own in the top of the fifth inning on an two-out RBI double by Copper.
Senior Kevin Henderson (.380) capped the frame with an RBI single to bring in Copper and boost the TDW lead to 6-2.
From that point on, Wilson held Hood River to three hits and had a double play turned to help his cause.
He had 11 outs come by groundout, eight by flyouts and those two strikeouts.
Offensively, Copper paced the TDW offense by going 3 for 4 with a run scored and three RBIs.
McCall hit a pair of doubles and scored twice, Wilson added two hits and Mathisen notched a hit, walked twice and scored two times.
"We also had some clutch hitting with guys in scoring position," Runyon added. "(It was a) great team win. (I am) proud of their effort."
Coming off a weekend sweep of their interstate rivals, Justin (.329) liked what he saw in those three games – there was pitching, defense and hitting all-around for this group.
"Playing Hood River is always the toughest game," said Sugg. "They are our rivals. They want to get us just as bad as we want to get them. It feels good to get them on their home turf, but we just have to go and battle the same way every time we step on the field."
It is still just May 1, and although the team batting average rests at .349 with 216 hits on 619 official at-bats, the No. 3 Tribe has it in their minds that there is much more to play for.
"It comes down to focus," Kiser said. "You know you have to show up to practice and work hard. In the games, we need to be focused on every play and every pitch."
TDW (17-5 overall, 8-1 league) next heads out to Hermiston (12-6, 5-4) for a league tilt at 4:30 p.m. on Friday night.