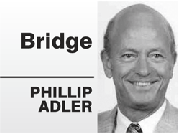 Katey Sagal, an actress and singer-songwriter, said, "I think we respond well when we do something well."
At the bridge table, we score well when, inter alia, responder rebids well — our theme this week.
Look at the North hand. What should North bid on the second round?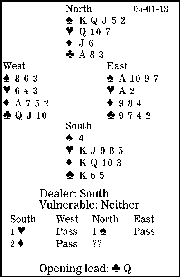 When the auction begins like this, if responder rebids two hearts, it announces weakness (6-9 points). If he jumps to three hearts, he shows game-invitational values (10-12 points). This hand, though, is worth game. North should jump to four hearts.
After West leads the club queen, how should South plan the play?
With a different hand, North would have other ways to force to game; we will look at the most important later this week.
South has four losers in his hand, one in each suit. He cannot avoid conceding tricks to the missing aces, so he must do something about the club loser — immediately. Declarer must discard a club from either hand.
There are two ways to do this. The better is to win the first trick in his hand with the king and to play a spade to dummy's jack. East takes his ace and returns a club, but declarer wins with dummy's ace and discards his third club on the spade king. Then it is time to draw trumps as quickly as possible.
Alternatively, declarer can win the first trick on the board and lead the diamond jack. West wins this or the next diamond and plays another club. South takes this in his hand and continues diamonds to ditch dummy's last club. He then ruffs his last club on the board and turns to trumps.