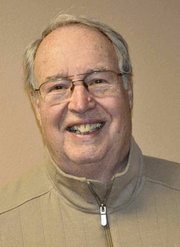 The Dalles — As one of the original members of the North Wasco County School District 21 school board, Dave Jones says he hopes to continue to put his decade of experience and knowledge of the district to good use.
Jones is up for re-election this year, running against John Nelson to represent Zone 4.
The board is several months into a two-year training program from the Oregon School Boards Association and Jones said he is running again so he can apply what he has been learning from the training.
"It has really been helping school board members understand our role as board members," he said. "I am really impressed with what we've learned so far."
Jones said in the past school board members have sometimes been too quick to approve items staff brought before them, but the trainings have taught him to be more active in asking about the positives and negatives of the programs that come before the board.
He said one of the most important issues for the district right now is figuring out how to maintain a quality staff despite budget challenges.
"The teachers are the ones making sure our students meet these goals, and research tells us that when you have good staff members that can teach, it doesn't matter where our students are coming from, they can learn," he said.
Jones said it is also important for the district to work toward gaining the trust of the community. He said he sees his role on the school board as putting any personal agendas aside to work together for the good of the students.
"I want to have answers for the patrons of the district and I want them to feel comfortable about asking," he said.
Jones said he has seen education change significantly since his time as a teacher and later as principal of Wahtonka High School. He said people shouldn't assume just because they went to school they know all about it, because the educational landscape has changed quite a bit through legislation like No Child Left Behind.
"Education has really changed the view of just moving students through the system," he said. "People said, 'we have students graduate who can't read or write or think,' so now the focus is on learning."
Jones said the thing he is proudest about in his school board service is the work he did to help create District 21 when District 12 and District 9 were dissolved. He described being a member of the District 21 board during the transition year, when there were three school boards, as trying to balance while standing with one foot on two different airplanes that were attempting to fly at the same speed and altitude. He said he feels good about the work the board did, including the decision to hire Candy Armstrong as superintendent.
Jones also said he has been proud of a number of academic decisions the board has supported in recent years.
"We have seen full-day kindergarten help students, and I feel that's one good thing we have going on at Chenowith. By helping students get a good foundation we can bring that school back up," he said.
Jones said he also has a number of worries about challenges the district will face coming up. He has been called to testify at a trial that started this week to determine whether the district practiced age discrimination when it didn't renew the contracts of several teachers who had retired and then returned to teaching in order to draw both a pension and a salary.
He said is also concerned about improving the district's math performance, which was always lower than its reading test scores but started taking a greater hit as the district lost math teachers to budget cuts.
"Even though we have our budget in balance it hurts because we've had to cut to get there," he said. "It's a hard situation to ask the teachers to do more and get paid less."