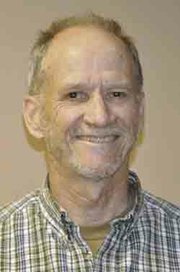 The Dalles — If there is one thing voters can count on if they vote for John Nelson, he says, it's his sense of commitment.
"I didn't miss one planning commission meeting in two years," Nelson said of his time as a city planning commissioner. "I was very active. I went around and talked to people."
He hopes to bring that same commitment and willingness to listen to the North Wasco County School District 21 school board, where he is running against incumbent Dave Jones in Zone 4.
Nelson, a retired teacher who spent 21 years at Warm Springs Elementary School, said he is running for the school board because he likes to be involved in making the community a better place and knows the importance of good schools.
He said the three issues he thinks are most important for the district to address right now are finding ways to provide "excellent educational outcomes" with limited funding, being transparent with policy decisions and creating good communication pathways that assure that everyone is listened to.
He said, if elected, one of his main goals will be to find out what the community wants and to make sure constituents who speak up are being heard. He recounted one of his first experiences speaking out against Wal-Mart during a public meeting, where his concerns were greeted with a loud, dismissive "Bah!" from a planning commissioner. He resolved never to treat anyone like that during his service on boards like the Urban Renewal Advisory Board and The Dalles Watershed Council.
"If you're an elected official, you are the gateway to people's hope for change in the community and they need to feel respected and not discounted," he said.
Nelson said he hasn't had time to attend any school board meetings yet but has gotten exposure to District 21 through his time in the classroom as a volunteer with the Start Making a Reader Today (SMART) program. He said he knows, through his time volunteering and working as a teacher, the effect of losing teachers to budget cuts.
"I'm concerned about that," he said. "If you lose teachers that's a huge loss because you lose really good families in the community that move away. I read Oregon has lost 7,000 teachers in the recession and that's devastating. It takes a long time to build it back up."
He said he knows if elected he will probably have to weigh in on where to make cuts and said he is interested in placing more emphasis on protecting elective programs like art.
"I'm a little saddened by the increase in focus on those basic subjects because it's all about accountability and assessments," he said. "When teachers get so focused on that you lose the love of learning … I wouldn't just slice [elective classes] because it's what keeps kids interested in going to school."
Nelson said he knows the district has gotten grants in the past few years for classes and after-school programs that fall outside of the basics. He said he would encourage the district to spend more time aggressively pursuing grants to keep those kinds of programs.
He also said he has seen those dollars stretch much farther when providing a good foundation to the youngest students instead of trying to fix the problem years down the road.
Nelson did say he has seen positive things in the district that he wants to help foster, such as the Project Endeavor program at the high school, which teaches math and science through real world projects. He said as a teacher he always focused on hands-on learning and so was very impressed when he saw a presentation by Project Endeavor students at a recent Kiwanis meeting.
"Those kids were really coming in there and showing leadership, presenting to a group and explaining their science project and how it works," he said. "It was very cool."