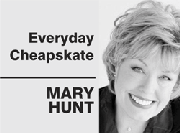 CHICKEN IN THE MIXER. I use my Kitchen Aid mixer with the paddle attachment to chop boneless, skinless chicken breasts that I've baked or boiled. This is a great alternative if you don't have a food processor. — Jan, EC Blog
BOTTLE CAP SUBSTITUTION. Our favorite brand of salad dressing stopped using the caps with holes in them. To avoid pouring too much, I now put the tops from ketchup bottles on the dressing bottles. Perfect fit! — Anita, EC Blog
DUSTING WITH SUGAR. Instead of greasing the cake pans and then dusting with flour, I dust with sugar. It's prettier and less messy than flour. It leaves a slight crusty appearance, with no flour sticking to the finished cake. I also warm my frosting a little in the microwave until its consistency is workable (I must admit to using container frosting as a rule). I use a spoon to drizzle the frosting on without frosting the entire cake. This looks great and tastes great, and I can usually frost several cakes with one container of frosting. — Diana, EC Blog
EASY GRIP WITH VINYL SHELF LINER. When installing vinyl shelf liner, there is always a little extra. I use that extra piece for opening jars. It folds easily in a drawer in the kitchen for handy use. — Q, EC Blog
COCONUT OIL MOISTURIZER. I love coconut oil and use it as a moisturizer. It is a solid — like the consistency of shortening — at 76 degrees, but it literally melts on your skin. It's awesome for mixing with essential oils. I used it with some eucalyptus and lavender oils when I had my last poison ivy outbreak, and it really helped!! — Rejena, EC Blog
MOISTURIZER FROM THE PANTRY. Olive oil is a good, gentle makeup remover. Even stubborn mascara is easy to remove with this oil. I pour a few drops in one palm, rub my hands together, and rub each over my face, eyes, chin and neck. I then rinse with a washcloth soaked in warm water. Most nights, there's enough residue left on my skin that I don't have to apply more oil after the wash. I don't even have to put a moisturizer on my lips. — Kathy, EC Blog
CARPET SQUARES CLEAR THE PATH. I keep carpet samples in the trunk of my car in case I get stuck in the snow (sand or mud, too). I simply place the carpet squares in front of the tires and drive right out! — Joan, EC Blog
Would you like to send a tip to Mary?
You can email her at mary@everydaycheapskate.com, or write to Everyday Cheapskate, P.O. Box 2099, Cypress, CA 90630. Include your first and last name and state.
Mary Hunt is founder of www.DebtProofLiving.com.
To find out more about Mary and read her past columns, please visit the Creators Syndicate Web page at www.creators.com.