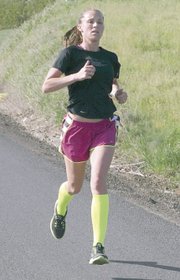 With the sun shining bright in the skies above, 186 harriers put their best foot forward in Saturday's 2013 Cherry Blossom 3k, 5k and 10k run/walk at Dry Hollow Elementary School in The Dalles.
Long-time event coordinator Bob Thouvenel said the times and performances were stellar.
"It was a nice day for an earlier morning run," Thouvenel said. "(It was) a good turnout – We had runners from Minnesota, Rhode Island, Virginia, Idaho, California, Washington, and, of course, Oregon. (There were) probably 50 percent of our runners and walkers from out of town."
Across the three-level race schedule, the 3k event saw the closest outcome overall with a little more than five minutes separating first-through-seventh place in the standings.
Luis Martinez captured 3k gold with his final mark of 11 minutes and 26.3 seconds, a tally less than a minute ahead of his next foe, Rhett Mosqueda.
John Iremonger (14:15.8) ended up in third place, Dale Hrigora (15:09.7) clocked in at fourth place and Johnathon Demott (15:18.3) chalked up fifth.
Molly Taylor (15:49.2), Jenna Miller (15:49.2), Jared Adams (16:04.4), Dalton Lundry (16:50.1) and Willie Booth (17:58.5) rounded out the top-10 placers, of the 49.
The marquee event of the day was the 5k race where 94 brave souls hit the concrete looking for personal-bests and those coveted top-3 ribbons handed out.
Former The Dalles Wahtonka athlete Ben Iremonger was head of the class on this day, as he toasted the field in an impressive 18:50.
Mike Demott ended up in second place with his 20:16.2, Mairend Beane (20:16.2) churned out third place, and Travis Dray (22:00.6) was good enough for fourth and The Dalles Wahtonka athlete Maddie Wood (22:58.0) motored home in fifth place.
Stephen Bradley (23:05.7), Joe Burgess (23:07.7), Trevor Olson (23:23.8), Mark Jubitz (23:43.2) and Christian Lovewell (24:20.0) capped the top-10 runners.
On the 10k side of the course, Charles Remington re-established himself as the best runner in the gorge with his top time in the 10k run of 37:14.9.
He had more than enough of a spread in front of Randall Jones, who placed second out of 43, where he crossed the tape in 41:14.3.
Sara Hertel slugged out a 42:17.1 for third place, Greg Gustafson mounted a 42:39.3 for fourth and Cliff Banister worked a 43:16.9 split to end up fifth.
Chase Snodgrass (43:56.8), Heather Fitz-Gustafson (44:00.7), Mandi Williams (44:04.9), Anderson Gould (44:43.4), Dan Menard (44:57.5) and Bobbie Bustamante (45:34.4) each topped out for valiant finishes for the 10k's top-11.
Up next is the Gorge Vineyard walk and run at 10 a.m. on Saturday, May 4 at Dry Hollow Vineyards.

The run fee is $5 or with a commemorative t-shirt, the price is $15.

For more information, call 805-610-3167.