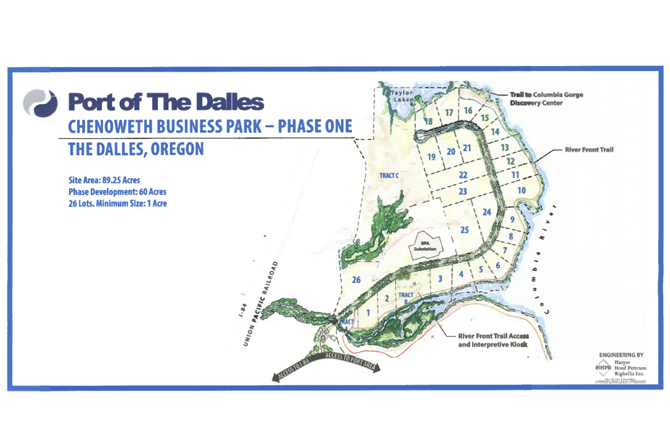 The Dalles — The Port of The Dalles could see businesses building as early as next year at its future Chenoweth Business Park.
A new sign on the property advertises 26 future one- and two-acre lots that can be used individually for smaller industries or in combination for larger users.
"We'll be able to consolidate some areas fairly easily," explained Michael Held, the port's development coordinator.
Port officials hope to draw from industries already in the area, including high-tech, manufacturing and food processing. The trade sectors were identified during the port's strategic planning process as likely development targets, given their large existing presence within the community — although other industry will also be considered, Held said. They hope the variety of amenities will attract people looking to site businesses.
"We're not just talking infrastructure, like water, sewer and fiber; we're also talking about making this a place where people want to work," Held said.
Views from the site are part of that equation, as is access to the Riverfront Trail, which is expected to retain its current route. The port is also working on efforts to revitalize downtown The Dalles, considering it a local amenity, as well.
The port subdivision application received administrative approval this month from the City of The Dalles. Held hopes to put the project out to bid this summer.
One challenge is how to extend utilities to the project. Walmart was expected to have preceded the North Chenoweth project, bringing utilities closer to the site.
"We need to come up with alternative plans to get the utilities there," Held said. "We're working with the state and WM3 on finding a plan that works for everyone to get the utilities in this summer for construction."
Development is staying on the uplands portions of the site in an effort to avoid any conflicts with area wetlands.
"We are trying to show to the Corps of Engineers and the Division of State Lands that our project doesn't impact any wetlands or mitigation areas," Held said.
Barring significant setbacks, Held hopes to see the project go to construction by July.
One challenge of the site is the composition of soil, rock and woody debris from the chip mill that was the site's previous tenant. Held said significant regrading will need to be done on the site and port officials hope to use as much of that material on site for grading as possible, so it doesn't have to be transported elsewhere.
State industrial certification is being pursued for the property. Certification involves clearing an exhaustive checklist of factors, from geotechnical issues to cultural resource issues to assure the property is quickly shovel-ready for industrial developers.
The Google site, for example, was state-certified for development.
"We hope that certification will coincide with when we offer the lots for sale in about a year," Held said.
Strategically, port officials hope development will yield a high density of new jobs. Strategic planners have advised the port to carefully consider development for the highest yield of jobs and income.
"Since we have a limited land supply, we want to make sure the acreage we do develop is developed densely enough to provide a certain amount of jobs per acre," Held said.