The secret to a rich life is to have more beginnings than endings."
— David Weinbaum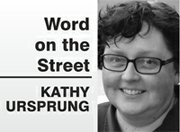 A new beginning: Fresenius Medical Care North America is celebrating the launch of its new dialysys clinic in The Dalles with an open house Wednesday, May 8, from 3 to 6 p.m.
Light refreshments will be catered by The Bistro at Water's Edge and Mayor Steve Lawrence will preside over a ribbon-cutting.
Nurses and staff will be available to discuss patient services and options including home dialysls.
Kelly Ramsey, RN, will host one of the company's informative treatment options programs to educate at-risk patients and their families about chronic kidney disease and its treatments.
The newly built facility is at 411 Lone Pine Blvd. in The Dalles.
Contact Maja Olsson at for more information at 541-298-1007.
Celebrating: Oxarc is also hosting its open house on Wednesday, May 8, from 10 a.m. to 3 p.m. at 900 E. Third St. in The Dalles.
The company sells welding and industrial supplies, fire equipment, industrial medical and specialty gases, rental equipment, safety products and welding inspection and testing.
For details, call manager Nathan Porter at 541-296-0012.
Scaling new heights: Quenett Cellars has been identified as the second-largest wine producer in Oregon, on a list of the top 25 wineries by Tam Jenkins of the Portland Business Journal.
"A winery new to the top 25 list is Quenett Cellars, which is among the top five this year. Quenett Cellars stands out not only as a newcomer, but also by being located in the Columbia River Gorge rather than the Willamette Valley," Jenkins wrote.
Based on Oregon Liquor Control Commission reports, Quenett produced 285,964 gallons of wine and exported 273,780. That's second only to A to Z Wineworks/Rex Hill Vineyards and 443,324 gallons produced and 391,984 gallons exported.
Another tip of the hat: Congratulations to Cascade Acupuncture Center, Paul Cook of Columbia Gorge Community College, and Michael Becker of Hood River Middle School, winners of the third annual Tod LeFevre Sustainability Champion Awards.
Marti LeFebre gave out the awards April 20 at the GO! Earth Day and Launch Party. If you missed it, catch the award presentation on YouTube.
Another GO! event: Catalyst Performance Consulting at 202 Oak Street hosts the Gorge Owned (GO!) Green Drinks at their 202 Oak St. headquarters in downtown Hood River.
The action is from 6 to 7:30 p.m. Thursday, May 9, a $5 donation is suggested for non-GO! members.
Learn more online at www.gorgeowned.org.
Hugging dirt: Bryant Pipe & Supply in The Dalles and Hood River will now carry Dirt Hugger's organic compost.
"We felt this was a great opportunity to work with other local businesses to provide more convenient locations and retail hours for our customers," said Tyler Miller of Dirt Huggers.
Dutch Bros. donate to Muscular Dystrophy: Friday, May 3, is MDA Day and Dutch Bros. Coffee will donate all its proceeds that day to the Muscular Dystrophy Association.
The event kicks off ALS Awareness Month and is held annually in honor of company co-founder Dane Boersma, who was diagnosed with ALS in 2005 and died in late 2009.
Youth Transition: Bill Marick from the Oregon Trail Youth Transitional Group will present an overview of the Youth Transitional Program at The Dalles Area Chamber of Commerce's Governmental Affairs meeting, Thursday, at 7 p.m., at The Barbecue Restaurant.
Upcoming guests include: Carolyn Purcell of the Discovery Center, May 9; cherry orchardist Bob Bailey, May 16; and Corliss Marsh of the Wasco County Library Association, May 23. May 30 will be either an open forum or an elected official call-in.
Jamboree-bound? Country rock band Brewer's Grade (formerly Unwound) has been chosen as a finalist for a performing spot at this year's Oregon Jamboree.
They are trying to spread the word by asking local businesses, friends and fans to post the Facebook balloting link on their company Facebook pages.
Here's a shortened version of the link: http://bit.ly/12jqcnl