CENTRAL ZONE VIEWING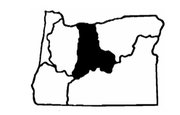 Crook County
The Prineville Reservoir Wildlife Management Area (WMA) North shore road is now open to motorized traffic. The WMA offers camping, shoreline angling and opportunities to see a wide variety of wildlife, including deer, coyotes, otter, beaver, raptors, shorebirds and waterfowl. Maps of the wildlife area are available at the Prineville ODFW office and at Prineville Reservoir State Park office.
Waterfowl can be found in decent numbers throughout Crook County, but especially along the Crooked River and Prineville Reservoir. Species that can be seen include mallard, pintail, gadwall, American wigeon, shoveler, green-winged teal, cinnamon teal, bufflehead, ring-necked duck, lesser scaup, wood duck and Canada geese. Canada Goose broods have been seen and can be found throughout Crook County.
Shorebird migration has just started and a few that have been seen include American avocets, black-necked stilts and killdeer. Common loons, grebes and a variety of gull species can also be seen around Prineville reservoir.
Spring passerine migrants should be increasing in diversity and number as the season progresses. Red-winged and brewers blackbirds, white-crowned sparrows, American and lesser goldfinches, mountain bluebirds and tree, cliff and rough-winged swallows are a few that can be seen.
Raptors can be found throughout the area. Red-tailed, rough-legged and ferruginous hawks, northern harriers, kestrels, prairie falcons and golden eagles can be found throughout Crook county and are usually associated more closely with open/agricultural areas. Bald eagles and osprey can be found associated with water bodies.
The recent warming trend and increased daylight hours has promoted some significant green up on winter ranges. Mule deer can be found in lower elevations around the county. 4/29/13.
Deschutes County
Spring fever has returned for most raptor species. Great horned owls began their breeding season in January and are now busily tending feathered young. Eagles, hawks, and other raptors have paired up and are tending to their nests and young. Both bald and golden eagles can be seen at Smith Rock State Park in north east Deschutes County, and one of their potential food sources, yellow-bellied marmots are being seen on warm sunny days.
Turkey vultures have migrated back from their wintering grounds to our south and can be seen soaring through the county. They are easy to spot from long distances due to their "V" shaped wing pattern.

Stella's jays, white-headed woodpeckers, junco's, several sparrow species, ravens, spotted towhee, hairy woodpecker, cedar waxwings and red-cross bills are just a few of the species that can be found in the Deschutes National Forest and BLM managed lands. Good sites to look for birds include forest edges surrounding meadows and wetland areas. Those with patience and stealth may be rewarded by the call and possible sighting of a Virginia rail moving through thickets of cattails.
Mallards, common mergansers, great blue herons and many other wetland bird species can be found throughout the county along rivers lakes and ponds. One hotspot is the Hatfield Ponds located off McGrath Road slightly northeast of the Bend airport.
Other birding destinations to consider include Tumalo Reservoir (west of Highway 20 between Sister and Bend), Pelton Dam wildlife overlook and Lake Simstustus (Deschutes River northwest of Madras).
Now that snow has melted at lower elevations, mammal activity will start to pick up a little. Squirrels may be seen on warmer days, and you might run into a black-tailed jackrabbit or two in areas where sagebrush abounds. Folks up and about in the early hours maybe treated to the sight of a coyote hunting for meadow voles and other small rodents in open meadows.
Some amphibians are activity breeding at this time of year. Tree frogs and Oregon spotted frogs have begun laying eggs. A few warmer days this month have tempted many reptile species from their winter slumber, but cold nights will keep activity low for some weeks. Look for western fence lizards on rocky outcrops on warm days. 04/22/13
Wasco and Sherman counties
The Lower Deschutes River provides ample wildlife viewing opportunities. California Bighorn Sheep are frequently observed in the canyon and can provide fantastic viewing this time of year. The best spot to view sheep is from the BLM access road just downstream and across the river from Sherar's Falls (along Hwy 216).
Other wildlife that may be seen along the river include black-taildeer, red-tailed hawks, American kestrels, Osprey, and Golden and Bald eagles. Waterfowl are commonly observed on the river, and visitors can usually see many different songbirds and upland game birds that also call the canyon home. 3/19/13.