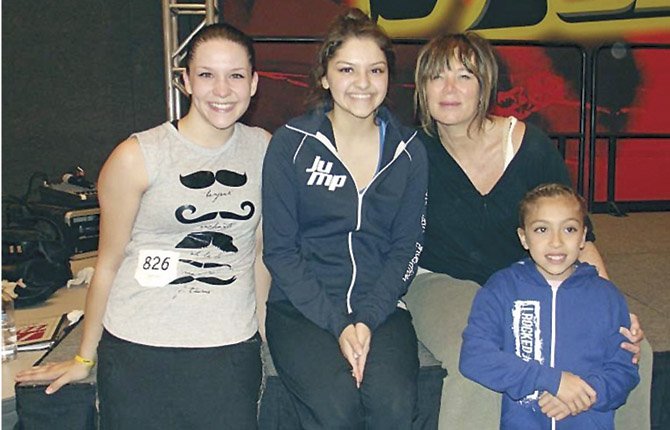 This past weekend gave The Dalles Dance Club an opportunity to twirl and dip against some elite competition at the annual Jump Dance Convention in Portland.
In this two-day stretch, dance club students took classes from judges and winners of the TV show, 'So You Think You Can Dance' and other celebrities.
The dancers joined 45 other dance studios from all over Oregon, Washington and California in tap, jazz, and contemporary
During the convention, the dancers auditioned in tap, ballet, contemporary, jazz and hip-hop.
Aubrey Hansen won a $250 scholarship in her senior ballet class.
The dance club is a competitive and recreational dance studio that offers dance and cheerleading classes for boys and girls between the ages of 3-19 in the summer, fall and winter.
Summer classes taught by Kristi Maley at the dance class academy will start the week of June 24 in tap, jazz, tumbling and cheerleading.
"I aim to provide the kids with self confidence and a talent that they will be able to use throughout their lives. I try to teach them hard work, dedication, and discipline to this sport," Maley said.
In the summer months, Maley has been setting the bar higher setting stringent routines, while working on different techniques and increasing overall skills.
For a child to become a great dancer, the instructor feels that they need to work on proper ballet technique, turns and leaps and increasing flexibility.
Along with those attributes, Maley said the kids would work on tapping faster and becoming more adept in foot dexterity.
"A lot is technique but, over half is performance. You have to work hard and have self-discipline just like any other sport," Maley said. "Without constant practice and improving your skills, you will get passed up quickly. Dance combines athleticism with grace. You have to make the hard moves look effortless."
The Dance Club will be holding its year-end recital at 6:30 p.m. Friday May 17 at The Dalles Wahtonka High School auditorium.

Admission is $3 and all proceeds will go to the TDW Tribe Dance team.
The club is located alongside The Dalles Fitness and Court Club on 731 Pomona Street West in The Dalles. For more information, call the club and speak with a representative at 541-298-8508.
Parents can also send an email questionnaire out to kristi.maley@gmail.com.