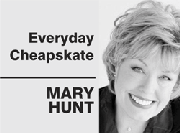 Dear Mary: I've read your books and am a member of DebtProofLiving.com. My husband and I were excited to start our Rapid Debt-Repayment Plan and did well the first month. Now we have fallen off the wagon and are behind on payments again. We haven't used our credit cards, but we feel discouraged. Now what? — Teresa, California
Dear Teresa: Want to know how many times I fell off and had to get back up on that wagon? Too many times to count. I don't recommend it because each time you fall off, you only delay the process.
You're being too soft on yourselves. You need to get tough. That starts with getting downright angry! Get mad at the decisions that brought you to this place in your life and mad for believing that credit cards would make your life easier. Get angry that you have all this debt to repay! Then, give yourselves a swift kick in the rear, grit your collective teeth and direct that anger at your outstanding debt. It's making your lives miserable, and it has to go!
I'm so glad you're part of our DPL family, and that you've read my books. I tell you with gratitude and amazement that a membership to DebtProofLiving.com has helped untold thousands of people to get out of debt and onto a path of living below their means. I know it can do the same for you. Just keep going, and don't ever give up!
Dear Mary: I recently graduated from college, and I need to buy a car. I don't have the money to pay cash, so I have decided to buy a used car by taking a loan from my credit union. I would get a better deal if I buy directly from an owner rather than a used car dealership. However, personal standard loans have higher interest rates than auto loans. Which option is better economically? — Kevin, Pennsylvania
Dear Kevin: You are on the right track in getting the financing through your credit union. The credit union should not differentiate between a car purchased from a private owner or a used car dealer. Go to the credit union before you start shopping. Find out the terms of the loan they will give you, including the monthly payments. Once you are pre-qualified, you can start shopping with confidence.
In most cases, once you have signed the loan documents, the credit union will cut you a check that will be as good as cash. You can shop private offers as well as used car dealers. As far as the seller is concerned, you are a cash buyer. Once you find the car that is right for you, you will have to bring the car's title and registration to the credit union. It will be transferred to the credit union's name as owner. When you pay the loan in full, the title will be transferred back to you as owner.
Do you have a question for Mary? Email her at mary@everydaycheapskate.com, or write to Everyday Cheapskate, P.O. Box 2099, Cypress, CA 90630. Mary Hunt is the founder of www.DebtProof
Living.com, a personal finance member website and the author of "7 Money Rules for Life," released in 2012. To find out more about Mary and read her past columns, please visit the Creators Syndicate Web page at www.creators.com.