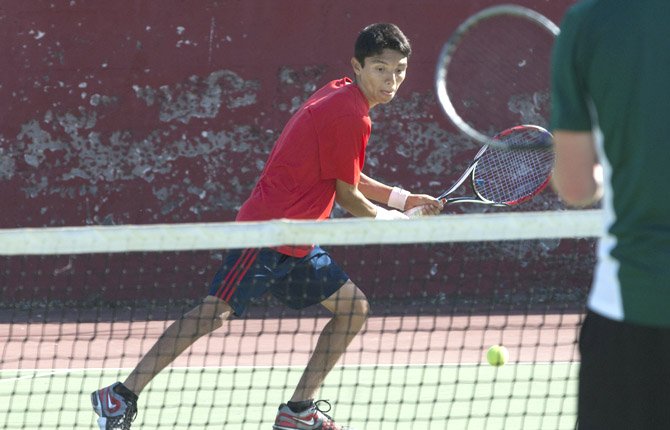 Wednesday on senior night, The Dalles Wahtonka boy's tennis team honored Carlos Barajas, Chava Vasquez, Jose Santillan, Carlos Valenzuela, Fernando Lopez and exchange student Ben Dlala for their hard work and dedication in building an upstart program for years to come.
Vasquez and his young doubles partner, Ethan Semlor, came away with a No. 1 doubles win and Valenzuela and Lopez grabbed a win as well, in the Eagle Indians' 6-2 setback to Pendleton.
Although the outcomes ended up at 6-2, Hughes pointed to four match breaker rounds as the difference – instead of third sets, the teams agreed to play in match breakers up to 10 points, in a way to prepare for the rules executed at the upcoming district tournament.
Cole McDowell lost his three-set marathon to Peter Anderton in No. 2 singles play, with the last set coming in a 10-6 outcome in the match breaker.
Anderton won the opener by a 6-2 score, but McDowell battled back to even things up by winning the second set, 6-4 to force the match breaker.
Anderton ended up pulling away late, before dropping a 10-6 score for the winner.
At No. 3, Christian Munoz had his streak cut short in a long matchup versus Joshua Su.
The Tribe standout motored ahead early with a 6-2 win in the opening round, but then Su answered that defeat by rallying for a 6-2 win to send the match to a third frame, where Su outlasted Munoz by a 10-7 tally.
The No. 2 doubles tandem of William Coy and Antonio Argueta added to the list of match breaker losses in their tussle with Pendleton's Garrett Haug and Jeremy Cochrane.
The Buckaroo pair shot the lights out early with a 6-4 win to get the early advantage, but in the second set, the Eagle Indian pair had to work overtime to extend play.
Coy and Argueta entered the tiebreaker even at 6-apiece, and hustled home to a 7-4 score in the extra session to even the match, 1-1.
However, Haug and Cochrane used the match breaker to create some distance in a 10-4 romp.
Finally, at No. 4 doubles, the Tribe got some match breaker revenge with Valenzuela and Lopez doing the deed against Ryan Skeen and Joey Bliss.
Pendleton skated to an easy 6-2 win in the first set, but Valenzuela and Lopez tied it up in the second set with a 6-3 marker, before dropping an impressive display in the finale by jumping out to a 10-2 winner.
"It was a little disappointing that we did not come out ahead in those match breakers," Hughes said. "The other matches were close and could have gone either way."
Vasquez and Semlor added TDW's only other win from the No. 1 doubles slot in a closely contested match opposite Micah Wood and Colton Skeen with the scoreboard reading at 6-4 and 7-5.
"I was really happy that Ethan and Chava pulled out a victory at No. 1," Hughes said. "Since this was the first time they had been paired up, they haven't had a victory all season, so it was nice to see them come through. That was a really big win for them. It was an exciting match."
In No. 3 doubles, Milo Romney and Daniel Spurr lost 6-2, 6-0 to Pendleton's Henry Holdman and Elijah Duiker.
Barajas lost his No. 1 singles showdown with Sam Reaves by a 6-1, 6-3 score and Dlala suffered a 6-4, 6-0 setback against Evan O'Grady.
"Overall, it was a bit disappointing for our last home match of the season," Hughes stated. "We were right there. Four of those matches could have gone either way. Hats off to Pendleton, they stepped up when they needed to in those match breakers."
TDW head coach Andrew Hughes felt a special kind of bond with this year's class of veterans.
He takes pride in the fact that they worked their way through the varsity ladder to No. 1 spots and several wins under their belts.
"It is a class that I will always have good thoughts about because they have worked very hard and they have been a pleasure to be around," Hughes said of his group. "They are quality kids. They really set the tone. They were leaders out there showing these other kids who have never played tennis before all about the sport. That was nice to see from them."
Vasquez and Santillan were a perfect example of two athletes who solid representatives of class personified.
"Chava and Jose have been role models for me," Hughes said. "They talk to the other kids and encourage them. Chava has been a very positive influence. He would stay after practice to work with the kids. He did not have to do that, but he was unselfish that way."
As the curtain ends on their careers, Hughes hopes the seniors take pride knowing they improved daily, never letting the scores get in the way of personal successes.
"I want them to look back and feel good that they were involved with The Dalles tennis program that helped contribute to their development as young men," Hughes added. "I know it is going to help me being around these kids. I am very fortunate to have been around them all this time."
The two-day district tournament takes place on Friday, May 10 at 8 a.m. at Sunriver Resort just outside of Bend.