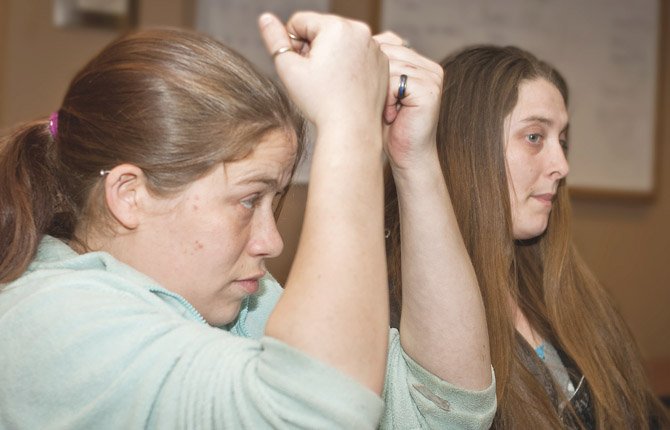 The Dalles — Kathryn Riter is trying to heal — both physically and emotionally — after being viciously attacked by an ex-boyfriend wielding a hammer in January.
However, she has found that living in a house where extreme violence occurred is fueling bad memories that cause her to recall shards of the drama several times each day.
"My whole house had to be cleaned up; furniture was broken and there were pools of blood and splatter everywhere," she said of the Jan. 23 incident that ended with the kidnapping of her 5-year-old son, Skylar.
Also allegedly assaulted about 6 a.m. that morning by Brian DePriest, 36, of The Dalles, was Josh Jarding, the boy's father.
Jarding, 30, ended up with a broken cheekbone, a damaged eye socket and several head wounds. Riter, 29, had a fractured skull that took 40 staples to repair. She also sustained more than 20 wounds on her hands and arms — and ended up with a broken finger — while attempting to ward off repeated hammer blows.
Three months later, she struggles with memory loss and headaches from her ordeal. She also grapples with a lingering depression that is caused by the feeling that she is no longer safe in the west-end house where she has lived for six years.

"I was in my room and he came straight at me," said Riter. "I fell to the floor sometime after he started hitting me and I was still conscious, but I didn't get up because I knew that he would hit me again."
She said her son is doing well but she believes he would also benefit from a fresh start in a place with no bad history. Riter, who sometimes goes by her maiden last name of Coulter, is also the mother of a 12-year-old daughter. She said the girl witnessed the attack but, despite the horror, had the presence of mind to keep three young children who were visiting cloistered in her room while Jarding's fiancée called for help.
"How are Kathryn and her children supposed to move on if they have to stay in this house?" asked Amber Tyler, Riter's elder sister and her representative with the media and in legal proceedings.
She said Riter's recovery is complicated by the fact that she was the victim of a crime when she was 12 and the recent incident is also forcing her to relive that nightmarish time in her life.
She said her sister would love nothing better than to move into a small two- or three-bedroom house with a yard where Skylar can play outside in a secure setting. However, with income of about $700 per month, she needs to live in a dwelling where up to $677 of the rent can be covered by federal housing assistance funding.
"She has always paid her rent on time and been an excellent manager of money so we are hoping that someone will come through for her," said Tyler, who asks that people with available rental properties contact her at 541-730-6378 or email ambertyler81@yahoo.com
A Coulter-Jarding fund has been set up at Rivermark Community bank to assist the family with moving costs.
Riter feels that area agencies failed to provide her family with a support system that might have prevented the assault or helped them better cope with the aftermath.
She said it was difficult to get a restraining order against DePriest in September 2012 due to miscommunication about court dates from local advocates for domestic violence victims. She then said there was a lengthy delay in getting the paperwork served by law enforcement officials, whom she felt weren't interested in her safety.
"It was annoying, it was to the point that I was threatening to go to the media," said Tyler, who hid Riter and her children at her own home during that time.
"Sometimes it seemed like Kathryn was seen as a 'nobody' by these agencies so they didn't go out of their way to help her."
Riter said she lived with DePriest for more than three years before breaking off their relationship due to his alleged drug use. He then reportedly returned to the house in September and threatened to kill her, the children and her new boyfriend after holding her hostage for several hours. That incident followed a foiled kidnapping attempt in May 2012, even though Skylar is not DePriest's biological child.
DePriest had been the subject of a restraining order in July 2008 for storming into the house of another woman whom he had been romantically involved with, a case that Riter knew nothing about when she was involved with him.
She said Child Protective Services dragged its heels on returning her son after DePriest was taken into custody at a relative's home in Dufur about two hours after the kidnapping.
Tyler said the agency refused to grant the family's request that the boy be turned over to them as soon as he had been debriefed by police. She said a CPS supervisor told Riter that her son would be kept in protective custody for three days, but then reversed that stance once she and her sister notified television news reporters, who had converged on the town, about the situation.
"CPS said because of the injuries his parents had sustained it would be best for Skylar to not return home right away," she said. "But 30 minutes after Kathryn's interview about what was going on, Skylar's grandmothers got a call to come pick him up and when he was reunited with family members, he was overjoyed and the supervisor just walked away without saying anything."
CPS administrators were unable to be reached for comment.
Tyler said Skylar had seen his mother and father bloodied and incapacitated when he was forcibly taken from the house and believed they were both dead. So he initially was hesitant to approach Riter and Jarding after they had been treated for their injuries at Mid-Columbia Medical Center.
"When we asked if he wanted to see mommy and daddy he went into panic mode," said Tyler. "I think he was just going by the images in his head and I had to tell him that they were okay and we were all going to be together at my house."
Riter believes the cash bail for DePriest of $25,000 was set too low because it is an amount that would be possible for him and his family to come up with.
DePriest has been charged by Nisley with aggravated attempted murder, second-degree kidnapping, three counts of first-degree assault, first-degree burglary, menacing, contempt of court and vehicle theft. If convicted, he faces between 10 and 25 years in prison.
"From what people have told me, he was planning on hurting or killing me for at least five months before he tried," said Riter.
She said DePriest was asked to move out of her home after she found drug paraphernalia and noticed negative changes in his personality that she believed were tied to his growing methamphetamine addiction.
"He was totally fine until I broke up with him and then he went crazy," she said. "I told him that he could not see the kids again until he stopped doing drugs."
She said DePriest knew that her new boyfriend would be released from jail the morning of Jan. 23 and decided to exact revenge while she was home alone. She said he did not know that Jarding and his fiance were temporarily living at the residence.
"We believe it was his total intention to come in and take her hostage because he was jealous of this new boyfriend," said Tyler.
Riter said Jarding was in the living room when DePriest entered the house and was immediately attacked. After Jarding had been disabled by several blows to his face and head, DePriest then allegedly made his way to Riter's bedroom and launched an assault against her.
He then reportedly grabbed Skylar and headed outside, where he found a neighboring car idling in a nearby driveway to defrost the windows. Riter is unsure whether DePriest arrived at her home on foot or via a bicycle, but he is accused by authorities of stealing the vehicle for a quick getaway.
There has been no significant movement on the case during the past several months and Tyler said her sister has been told to expect the prosecution process to be lengthy due to the severity of the charges.
DePriest is being represented by attorney Rob Raschio of the gorge firm Morris Smith Starns Raschio and Sullivan.
"Every day I look on the NORCOR (Northern Oregon Regional Correctional Facilities) website to see if he is still in there," said Riter. "I know that he may get out tomorrow and I don't like to think about what might happen then."